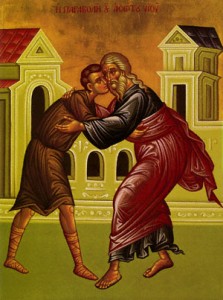 The Gospel of Luke 15:11-32
The Lord said this parable: "There was a man who had two sons; and the younger of them said to his father, 'Father, give me the share of the property that falls to me.' And he divided his living between them. Not many days later, the younger son gathered all he had and took his journey into a far country, and there he squandered his property in loose living. And when he had spent everything, a great famine arose in that country, and he began to be in want. So he went and joined himself to one of the citizens of that country, who sent him into his fields to feed swine. And he would gladly have fed on the pods that the swine ate; and no one gave him anything. But when he came to himself he said, 'How many of my father's hired servants have bread enough and to spare, but I perish here with hunger! I will arise and go to my father, and I will say to him, 'Father, I have sinned against heaven and before you; I am no longer worthy to be called your son; treat me as one of your hired servants.' And he arose and came to his father. But while he was yet at a distance, his father saw him and had compassion, and ran and embraced him and kissed him. And the son said to him, 'Father, I have sinned against heaven and before you; I am no longer worthy to be called your son.' But the father said to his servants, 'Bring quickly the best robe, and put it on him; and put a ring on his hand, and shoes on his feet; and bring the fatted calf and kill it, and let us eat and make merry; for this my son was dead, and is alive again; he was lost, and is found.' And they began to make merry. Now his elder son was in the field; and as he came and drew near to the house, he heard music and dancing. And he called one of the servants and asked what this meant. And he said to him, 'Your brother has come, and your father has killed the fatted calf, because he has received him safe and sound.' But he was angry and refused to go in. His father came out and entreated him, but he answered his father, 'Lo, these many years I have served you, and I never disobeyed your command; yet you never gave me a kid, that I might make merry with my friends. But when this son of yours came, who has devoured your living with harlots, you killed for him the fatted calf!' And he said to him, 'Son, you are always with me, and all that is mine is yours. It was fitting to make merry and be glad, for this your brother was dead, and is alive; he was lost, and is found.'"

Today we come face to face with the story of our own lives.  Today we see ourselves in this story of a man who decides he wants to go it alone.  He sets off from his father's house, with his inheritance, and heads out into the great unknown.  This is every child's dream when they are growing up.  Taking their fortune, and leaving behind all of the rules and regulations that parents place on children, and getting to do what they want to do when they want to do it.  They get to stay up late, can watch whatever they want too on television, they get to eat Ice Cream for breakfast, whatever they want, they can do.
But what happens when we come to the realization, and we all do, that we cannot go it alone?  What happens when we determine that the rules really were not that bad after all, that having a place to lay your head is worth putting up with a few rules, that having a decent meal to eat and a roof over your head looks pretty good.  Well, we all come to that determination as well.
Today's Gospel is a story of, what I like to call the three R's, recognition, repentance, and reconciliation.
We are presented with three characters, the father and his two sons.  One son stays at home and works and other one, takes what he has coming to him, and goes out into the world.  All three have a sense of who they are and what their role is supposed to be but they all see it a little different.
One son, decides he wants to leave so he goes to his father and asks for his inheritance, after all it is his right?  He asks his dad, who has worked his entire life, for all the money that he will get when his father dies.  He does not do this so he can go and invest it, or perhaps even buy another farm in a nearby town, no, he wants to do what he wants to do because after all he knows better what he needs then his father does.
Now the father, who loves each of his children unconditionally, is sad, but gives in to his sons request and gives his what he has coming.  There is no evidence in Scripture that he tries to talk his son out of leaving, there is no bargaining with the son to stay, nothing, the father simply gives him his freedom to walk away.  And the son does just that and does not look back.
I remember when I got my first apartment.  I was out of the Army and back home, I had finished two years of college and had secured my first real job.  The apartment was small and had gold shag carpet on the floor, but it was mine a place to call my own.  So I set about setting up my new home.  I moved my furniture out of my parent's house, I say my furniture only that it had been in the room that my parents had allowed me to live in all these years, into my new place.  It was great and I loved it, then the bills started to arrive and soon I was in over my head.
We think we know it all.  We think that the previous generation has no idea what it is like to be us.  Every generation has gone through this and every generation will go through this.  The old generation is just that, old, and what could they possibly know about being young.  But like all good parents, the father in this story, has to let his son go out into the world and make his own mistakes.  He needs to let him fall, and figure out how to pick himself up, because that is where the growth happens.
We hear in today's scripture, that he spent all of his money in a far country, he wasted all of his possessions and then a famine came to that land, and he went to work for what the pigs would not eat, he was in a pretty bad way.  Then he came to himself, the father's tell us, he had recognition of his sinful life, realized he was living outside of himself and had to do something.  So he return to his father's house, but not without shame.
He tells himself that he will return and take the lowest place in his father's household to earn his living and to have some security.  Surely his father will not welcome him back as his son after what he has done.  But, as we hear in the story today in this is not to be the case.
The father sees his son returning and runs out to meet him, kills the fatted calf, puts his best robe on him and his prize ring, and all is well.  I like stories with a happy ending.
The son had recognition that he had sinned in his life.  Last week I said that if we think we have not sinned and have no need of confession then we are guilty of the sin of pride.  Pride is the sin of all sins and it is the sin that put humanity out of paradise and is the sin that is at the root cause of all of the others.  The son thought he knew better than his father, in this case, God.  He did not need the rules and regulations on how to regulate his life, he knows what he wants and what he needs and no one is going to tell him different.  But we must recognize that we are all sinners.
The son, after this recognition, repented for what he had done.  He was hungry, he had physical hunger as well as spiritual hunger, he needed to return to his father's table, the table of the altar where we are feed each week with the living bread of our faith, the bread of life and the cup of eternal salvation.  This is the food that we all need and desire.  But we cannot come if we are not ready.
And finally we see he had repentance.  He had to return to his father's house, and he was ready to take the lowest of jobs in the household, he was ready to sleep in the barn and become a slave if it meant being able to come home.  He was willing to do whatever his father asked of him just he could feel secure again.
But we see it different.  His father was not wrathful, he did not beat him or cause him harm in anyway, he welcomed him home with open arms, in fact he ran out to greet him.  Such is his love for this one who was lost, that he dropped everything and ran out to meet him.  This is what God does for each of us.  He weeps when one of his children strays and he rejoices when we return.  He runs out to meet us, with open arms, the open arms of Jesus on the cross, and He welcomes us home and throws a banquet for us, with the best He has to offer, and that is His only Son!  He gives us His only Son, right here each time we receive the Eucharist.
All of us must be like to prodigal and come to a realization that we need to return home.  We need to turn away from what we want and what we desire, and turn back to toward the will of God.  We need to stop eating with pigs, and eat at the table of the King who will always welcome us home, no matter how long we have been away.