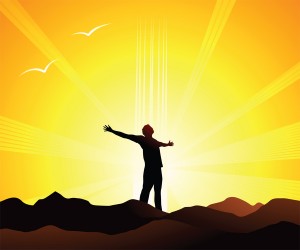 I read a lot of blogs by a lot of different people.  I read history blogs, news blogs, religious blogs, and some fun stuff.  I recently came across this daily devotional blog that had a post about the fear of God.  The writer of the blog post, the Rev Richard Floyd said that fearing God is not very popular these days and I would have to agree that is true.  No one wants to think that God is something or someone that should be feared.  With this in mind the author offers this bit of advice, "If fear seems too strong a word, sidle up to it slowly by thinking about 'awe' and 'reverence.'" I like these words but I would like to go a little bit further.
The writer of the Proverbs has it: "The fear of the Lord is the beginning of knowledge" (Proverbs 1:7). Perhaps it should read that it is not the fear of the Lord that is the beginning of knowledge but that the fear of the Lord is the principal part, the very foundation of knowledge. Fear here does not mean terror; it means awe and reverence. It is the simple fact of life that we will never reverence others until we reverence God. It is only when God is given his proper place in the center that all other things take their proper place.
So let us shift our thinking away from "fear" and more towards "reverence" but not just reverence for God but reverence for all of God's people and all of God's creation.