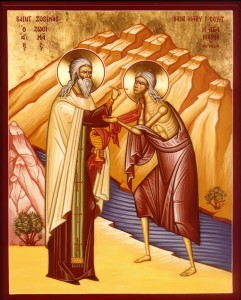 The 5th Sunday of Great Lent is set aside to commemorate St. Mary of Egypt.  Born in the 4th century this day is to remind us of the great power of reconciliation in our lives.
At a young age, St. Mary left her home and traveled to Alexandria where she lived a life as a prostitute.  St. Mary decided to go on pilgrimage to the Holy Land not so much to visit holy sites but to ply her trade along the route.  Upon arriving in the Holy Land, she attempted to enter the Church of the Holy Sepulchre on the Feast of the Exultation of the Cross.  Her way was barred by some force that she did not know.
She saw an icon of the Theotokos on the wall and stood before it and prayed.  She had come to the realization that she was a sinner in need of the mercy of God.  When she finished praying, she was able to enter the Church where she venerated the relics of the true cross.  While in the Church she heard, a voice telling her to cross over the Jordan River where she would find peace.
On the way, she stopped at the Monastery of St. John the Baptist and received absolution and communion.  She entered the desert and lived and ascetic life for many years.  There is much more to the story, but the recognition of her need for the mercy of God is the key to the story.
The season of Great Lent is designed for us, all of us, to come to this realization that our lives need to change.  If we are to be authentic followers of Jesus Christ, then our lives have to change, and this is what Mary discovered.  Turning over of one's life to Christ is an important part of the journey, in fact, the journey cannot begin until we do this.
The life of St. Mary is put here on this 5th Sunday of Lent to remind us of this important fact, and it is now up to us to take the next step.  As we continue the journey of Great Lent, and the start of Holy Week, let us come to the same realization that Mary did, that our lives need to change, and rededicate our lives to Christ and to follow His way.