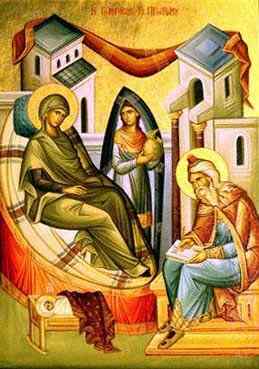 He that was greater than all who are born of women, the Prophet who received God's testimony that he surpassed all the Prophets, was born of the aged and barren Elizabeth (Luke 1: 7) and filled all his kinsmen, and those that lived round about, with gladness and wonder. But even more wondrous was that which followed on the eighth day when he was circumcised, that is, the day on which a male child receives his name. Those present called him Zacharias, the name of his father. But the mother said, "Not so, but he shall be called John." Since the child's father was unable to speak, he was asked, by means of a sign, to indicate the child's name. He then asked for a tablet and wrote, "His name is John." And immediately Zacharias' mouth was opened, his tongue was loosed from its silence of nine months, and filled with the Holy Spirit, he blessed the God of Israel, Who had fulfilled the promises made to their fathers, and had visited them that were sitting in darkness and the shadow of death, and had sent to them the light of salvation. Zacharias prophesied concerning the child also, saying that he would be a Prophet of the Most High and Forerunner of Jesus Christ. And the child John, who was filled with grace, grew and waxed strong in the Spirit; and he was in the wilderness until the day of his showing to Israel (Luke 1:57-80). His name is a variation of the Hebrew "Johanan," which means "Yah is gracious."
Apolytikion in the Fourth Tone
O Prophet and Forerunner of the presence of Christ, we who fervently honor you cannot worthily praise you. For by your revered and glorious birth the barrenness of your mother and the muteness of your father were unbound, and the incarnation of the Son of God is proclaimed to the world.
Seasonal Kontakion in the Second Tone
O Protection of Christians that cannot be put to shame, mediation unto the creator most constant: O despise not the voices of those who have sinned; but be quick, O good one, to come unto our aid, who in faith cry unto thee: Hasten to intercession and speed thou to make supplication, O thou who dost ever protect, O Theotokos, them that honor thee.