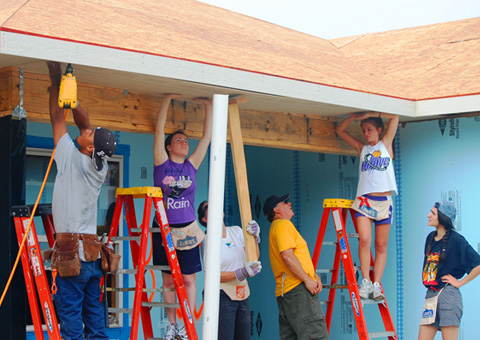 Houston, TX (IOCC) — The sound of power saws and nail guns mingle with easy laughter and conversation as IOCC Orthodox Action Team volunteers work side by side, building homes and friendships at volunteer home-builds in Houston and Minneapolis. They have traveled from Maryland, Virginia, Georgia and New York to help construct homes for families left homeless by hurricanes in Houston and tornadoes in Minneapolis. Four home building teams have already completed their one-week commitment, with four more summer builds and critical home repairs slated for Minneapolis, Houston, and in Minot, North Dakota, which lost an estimated 1,600 homes to flooding last summer.
The 2012 team builds began in March with a pairing of Orthodox Christian Fellowship (OCF) college students and veterans of previous IOCC builds. The next three builds, including the first ever home built by IOCC volunteers in Minneapolis, also brought together a mix of Orthodox youth with older volunteers. Generation gaps vanished and friendships flourished among the IOCC Action Team members as they quickly bonded over shared triumphs of raising walls and roofs together. Kathy Hallas, advisor for the Maryland youth group, says it was gratifying to witness the unwavering enthusiasm among her young volunteers. "Sister Nektaria from India wrote, 'We have to witness our faith through the actions of love.' What more would an action of love be than providing shelter for someone who lacks it?" says Kathy. "This was such a great experience that we plan on making it an annual event for the youth of our parish."
The camaraderie carried over to the Orthodox families who opened their homes and their hearts to the young humanitarians. Parishioners from St. George Antiochian Orthodox Church and Annunciation Greek Orthodox Cathedral in Houston, as well as St. Mary's Greek Orthodox Church in Minneapolis hosted the IOCC Action Team members, while parishioners from many local parishes in both cities have participated in the builds and offered hospitality.
IOCC has provided more than 600 volunteers and thousands of man-hours since the devastating hurricanes in 2005 to help families rebuild their lives by building new homes or providing critical repairs to storm-damaged homes. Volunteer opportunities are still available this summer including:
| | |
| --- | --- |
| • | July 29 – August 4 in Minneapolis |
| • | August 5 – 11 in Houston |
| • | August 12 – 18 in Minot, North Dakota |
You do not need to be skilled – just energetic! To apply as an IOCC Action Team volunteer for the Houston or Minneapolis builds, visit our website at www.iocc.org/actionteam. To apply for the Minot build, go to www.iocc.org/Minot2012. For specific questions, please contact the IOCC U.S. Programs Department at 1-877-803-IOCC or e-mail to dchristopulos@iocc.org.