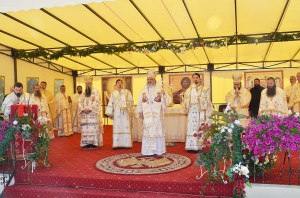 Today, 22 July 2012, the evangelical pericope of Saint Matthew (cap. 9, vs. 27-35) on the miraculous healing of two blind people and of a dumb one by Jesus, our Saviour, in Capernaum town, was read in all the places of worship of the Romanian Patriarchate.
The evangelical text teaches us, first of all, that the Saviour provides healing as a reward for persistent prayer, said His Beatitude Patriarch Daniel in the sermon delivered during the Divine Liturgy celebrated at Caraiman Monastery, as Trinitas Radio station informs us.
The Saviour asks the two blind men not to tell anybody that they were healed. But they do not obey Him and tell everybody about the good Jesus Christ has done to them. Thus, we learn how important gratitude is, towards God and towards those who help us, also said His Beatitude Patriarch Daniel.
"Gratitude is the greatest virtue of man when he expresses his love towards his benefactor or benefactors. People say that gratitude is a rare flower. Very often people do not thank any more. The young ones do no longer thank their parents for having given life to them and grown them up, the students do no longer thank their professors, and lots of neighbours do no longer thank those who helped them when they needed.
Due to the fact that besides preaching the Gospel the Saviour healed the bodies and souls too, the Church learned that aiding events should be organised for those in need.
"The Church has organised houses and canteens for the poor, widows, old people, orphanages, children and hospitals for those who suffered for a long time. But amid charity and merciful love it was the Church, the Liturgy as source of the merciful love for the poor people. So, after we listen to the Gospel we should not forget about the poor, needy, sick ones. We must visit the helpless sick. If we cannot reach them we should pray for them, send them some money for medicine. We can help in many ways and whenever we help those who pray God for help we become the hands of God's love.