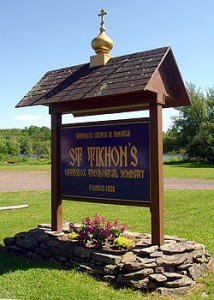 The Orthodox Christian Education Commission [OCEC] and Saint Tikhon's Seminary will be co-sponsoring a Christian education conference, "Educating Our Children in Godliness: A Day of Fellowship and Learning," on the seminary campus here Saturday, September 15, 2012.
Presenters include Matushka Myra Kovalak, Director of the OCEC Department of Teacher Training, and Archpriest George Alberts, Carole Buleza, Matushka Anna Hughes, Maria Proch, and Matthew Hatrak.
Participants may choose to participate in three of four course tracks.  Those completing all three courses within a track may receive a certificate of participation.
Church School Director Seminar Courses: Introduction to Church School Ministry, Curriculum and Resources for the CSD, Building Your Staff, Building Your Students
Teacher Training I Courses: Overview of Orthodoxy, Introduction to Teaching, Curriculum and Resources
Teacher Training II for Elementary Grades: Enriching the Classroom Experience, Child Development and the Exceptional Learner, Creative Expression
Teacher Training II for Middle and High School: Adolescent Needs, Moral Issues Overview, Creative Expression
The registration fee is $35.00.  Registration deadline is September 8.
For additional information, download the info and registration form available on-line or contact Khouriya Olga Atty at olga.atty@stots.edu or 570-561-1818.
Established in 1957 as an agency of of the Standing Conference of Canonical Orthodox Bishops in the Americas, OCEC is one of several ministries of the Assembly of Canonical Orthodox Bishops of North and Central America.  It is devoted to developing and publishing educational resources and offering support services to Orthodox Christian parishes in North America.  For additional information and/or to order educational materials, visit OCEC's web site.