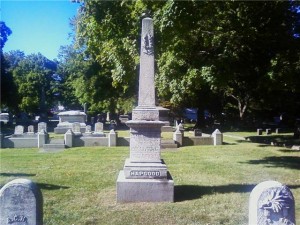 When St. Herman and the other monks from the Valaam Monastery brought the Orthodox Faith to North America they brought that faith in the Russian language.  They soon translated the Divine Liturgy into the language of the local people in Alaska to make it easier for them to understand.
In the early days of the Orthodox Church here in North America, there were very few text, if any, available in the English language.  It was impossible for people, who only spoke or understand English to find any books or even attend a Divine Liturgy.  Up until about 20 years ago that was still the case.  Today, however, thanks to the efforts of many people English speakers have a abundance of volumes available to them.
One of those early translators was Isabel Florence Hapgood.  Isabel was born in Boston in 1851 and studied Germanic and Slavic languages specializing in Orthodox liturgical texts.  Isabel was educated at the Oread Collegiate Institute in Worcester, Massachusetts one of the oldest institutions of higher education for women in the United States.  Another famous graduate of this school was Laura Spellman, future wife of John D Rockefeller.  In 1865, she transferred to Miss Porter's Finishing School in nearby Farmington, Connecticut.
Due to the knowledge of Russian and other Slavic languages she was involved in the dialogue between Eastern and Western Christians.  Isabel traveled extensively through Russia from 1887 until 1889.  She stayed for a time with Russian novelist Leo Tolstoy.  She was in Moscow when the Russian Revolution broke out in 1917 but was able to return to the United States.
During her time in Russia, she discovered Russian choral singing and developed a fondness for it.  She felt a desire to make these texts available to the English speaking world.  In 1906, the first edition of The Service Book of the Holy Orthodox-Catholic (Greco-Russian) Church appeared.  She was given a complete collection of Russian Liturgical books in Church Slavonic by Archbishop Nicholas of Alaska and Archbishop Tikhon provide personal advice on the translation.
A second edition was found to be necessary due to the practical use of the first edition.  The Romanian Archdiocese, of which I belong, has recently completed a multi year translation and preparation of the Romanian/English Liturgy book for use in our parishes in North America.  Part of that process is to use the book to see if the language works.  One does not simply translate the Liturgy from one language to another a sense of poetry has to be used.  Keeping in mind that the Liturgy is sung, it is essential that the words are able to be sung.  It is no surprise that a second edition was needed.
Isabel sight the blessing of Patriarch Tikhon on the second edition her translation and that was granted on November 3, 1921.  She considered the preparation of this work to be a gift of love, and for her many years of work, she received a $500 honorarium.
One of the interesting aspects of this story is that Isabel Hapgood never became Orthodox.  She spent years working on the text that has become one of the mainstays of English Language Orthodox Service Books, and she never converted.  I find this a fascinating aspect of her life.
Isabel passed from this life on June 26, 1928 and is buried in the family plot at the Rural Cemetery in Worcester, Massachusetts.  The photo used with this essay is of the family plot.
My friend, and fellow blogger, Fr. Greg and I paid a visit to the Rural Cematery to visit the grave.  Fr. Greg has been there before and has blogged about it here.  We noticed that the grave stone is weather worn, as most sandstone markers are of that age.  I remarked that I think the Orthodox here owe it to her memory to see about restoring her stone and to remember her in some way.  As we were walking around we came across the Ellen Rogers Kennedy Memorial Chapel and we were honored with being able to view this chapel.  It is a replica of an old English Chapel, and we both thought that maybe next year on the Anniversary of her death we would hold a liturgy in that Chapel using her translation.  Either way, I do believe that we have some responsibility in caring for this grave.
The sad part of this story is that Isabel and her contribution to American Orthodoxy have all but vanished from the history of the American Church.  She gets a footnote in some books and essays written, and in some circles, she is scorned and called Halfgood because they disdain her translation.  However, we must never forget that at a time when little or nothing was written in English about Orthodoxy, it took the efforts of a non-Orthodox to translate the liturgy into English.  In my mind, Orthodoxy in the English speaking world owe an enormous debt of gratitude to Isabel Florence Hapgood.