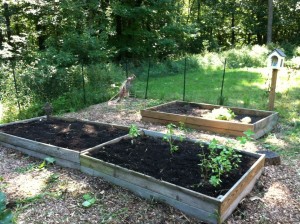 The Orthodox Monk has a particular attachment to the earth.  It is difficult to speak about attachment, and the monastic as our whole life is about detachment but in this case the monk has this attachment.
The Orthodox Church has a fairly well developed theology around the care for the earth.  We view all of creation as just that creation, created by God, and as God said in Genesis it is good.  We are stewards of this creation, and it is our responsibility to care for it.  God gave us dominion over the creation, but that dominion comes with an immense amount of responsibility.  We have to care for the land so that the land will produce what we need to survive.
As an Orthodox Monk, I try to live a sustainable lifestyle.  What does this mean?  We are to try to live a life that leaves as small a foot print on creation as possible.  We do this in many ways.  Here at the monastery we keep the heat at a low temperature and wear a sweater when it gets cold, but we also cover the windows and make sure that the heat we do use is used in the most efficient way.  We limit the amount of water that we use.  How many of us run the water whilst we are brushing our teeth in the morning, or do not fill the washing machine when we do a load of laundry.  Our machine has a setting that limits the amount of water, or I wait until I have a full load to wash the clothes.  In the warm months, we use the clothesline to dry the clothes, and I am considering an indoor clothesline for the winter months.
We try to turn off the lights in the rooms we are not using or only use the light when needed.  Several years ago we switched the lights we could to compact florescent lights.  These use less power and last longer.  They need to be disposed of properly, so that causes us to recycle.
The Town we live in has an excellent recycling program.  It is a single stream program, so we throw all of our recycle stuff into one large, 90 gallon, container that is collected every other week.  This makes the task of recycling remarkably simple.  We compost all that we can so that limits the amount of waste that is heading to the land fill.  Yes this requires additional effort, but once you establish a system it works fantastic and the soil that is created from this composting is perfect for the garden.
We are fortunate that we have a large piece of land here at the monastery.  We are able to raise chickens and have a rather large garden.  I was able to can several pints of summer squash, zucchini, and bread and butter pickles this year all from the garden.  The tomatoes that were grown were used as they were harvested and the basil has made a delightful addition to many of the recipes that we cook.  Anyone, no matter how small a plot of land you have, can produce something one it.  If not consider shopping at a farmer's market.
Buying local food is more expensive but in the long run it is better for you and it uses less fuel to transport it.  Yes it's satisfying to have all sorts of fruits and veggies available all year long but at what cost?  Studies show that eating what is grown locally and what is in season is far better for you than the diet most of us have now.  Commercially grown fruits and veggies are produced with pesticides and all sorts on garbage that is weakening our immune systems and causing all sorts of health issues.  Looking the farmer in the eye and asking him what he uses on his plants is worth the price of admission.
We have plans this year to use the rain barrels that we purchased several years ago to collect water to water the garden.  We have plans to raise chickens for meat and turkeys this year and to keep up with what we already have.  Garden expansion is also in the works, and I am using the "off season" to plan what that will look like in the spring when we are able to plant again.  The ultimate goal here is to produce enough of our own food, or to sell what we do not use, to be able to sustain our life here.
Recently, on his podcast The Morning Offering, Abbot Trypon of All Merciful Savior Monastery in Washington State talked about sustainability and what they are doing at their monastery.  It is a short podcast and well worth listening too.
This about what you can do to reduce your foot print and aid in the sustainability of the earth that we all share.