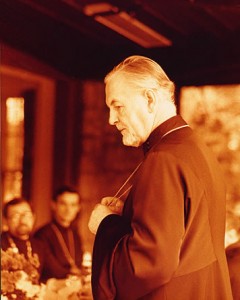 SYOSSET, NY [OCA]
Thursday, December 13, 2012, the Feast of Saint Herman of Alaska, marks the 29th anniversary of the repose of Protopresbyter Alexander Schmemann, Dean of Saint Vladimir's Seminary and a leading 20th century Orthodox Christian theologian.
Born in 1921 in Estonia to a family of Russian emigres, Father Alexander spent his youth in France, where he received his secondary and university education. He also completed theological studies at the Orthodox Theological Institute of Saint Sergius in Paris, which was then the center of Russian Orthodox scholarship following the turmoil of the Russian Revolution of 1917.
Ordained to the priesthood in 1946, he taught Church history at Saint Sergius Institute until 1951, when he was invited to join the faculty of Saint Vladimir's Seminary, at that time located in New York City. He was quickly recognized as a leading exponent of Orthodox liturgical theology, which sees the liturgical tradition of the Church as a major sign and expression of the Christian faith.
He received his doctorate on July 5, 1959 from the Orthodox Theological Institute of Saint Sergius on the dissertation "Tserkovny Ustav: Opyt Vvedeniia v Liturgicheskoe Bogoslovie" [The Church's Ordo: Introduction to Liturgical Theology]. He held honorary degrees from Butler University, General Theological Seminary, Lafayette College, Iona College, and Holy Cross Greek Orthodox School of Theology.
Besides teaching at Saint Vladimir's, Father Alexander held positions of adjunct professor at Columbia University, New York University, Union Seminary, and General Theological Seminary in New York and was a popular guest lecturer at many universities throughout the country. He was also active as a representative of the Orthodox Church in the ecumenical movement, and held positions in the Youth Department and the Commission on Faith and Order of the World Council of Churches.
Dean of Saint Vladimir's Seminary from 1962, he was instrumental in educating a generation of Orthodox priests. During his tenure, the Seminary achieved wide recognition as a center of Orthodox theological studies.
In 1970, he was active in the establishment of the Orthodox Church in America as an autocephalous Church, which at that time became officially independent from the Russian Orthodox Church, and dedicated itself to the unity of Orthodox ethnic jurisdictions in this country.
While committed to the cause of an Orthodox Church which would be united and American, Father Alexander always remained concerned with the fate of believers in the Soviet Union. For 30 years, his sermons were broadcast in Russian on "Radio Liberty" and gained Father Alexander a broad following across the Soviet Union. Alexander Solzhenitzyn, who while still in the Soviet Union was one of his auditors, remained his friend after emigrating to the West.
Father Alexander published over a dozen books which received wide circulation, including For the Life of the World; Introduction to Liturgical Theology; Ultimate Questions; Church, World, Mission; and numerous articles and tracts. For the Life of the World, a popular volume on Christian faith as reflected in liturgy, has been translated into numerous languages and remains one of the most popular works on Christianity for the general public. He completed a major study on the Eucharist only weeks before his death.
May Father Alexander's memory be eternal!
For a wealth of additional information and links please visitwww.schmemann.org.