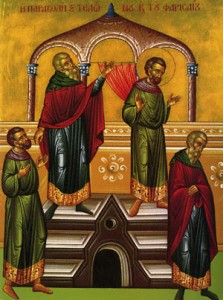 Today we begin the season known as the Triodion.  The Triodion are the books that we will use now until after Pascha, and they contain all of the services for the weeks of preparation as well as those of Great Lent.  This is a time of preparation, and it is a time that we need to take seriously.
In today's Gospel,  we are confronted with two decidedly different men.  On one hand we have the publican, who knows of his sinful life, he has come to grips with it, he is so weighed down by his grief over his sins that he cannot even lift his head up or find the words to pray.  Then we have the Pharisee, in his finest robes with all of his attendants, who comes into the Temple for all the world to see.  He makes a grand entrance and stands in the middle of the Temple, and asks the Lord to forgive him.  But, we see no remorse in his prayer, he is not humble before God, and he even pokes fun at the publican who is also there praying.
Acknowledgement of our sins before God is an exceptionally large part of our spiritual life.  I know most of us think we have not sinned.  But you are just fooling yourself, in fact, if I dare say, we are guilty of the sin of pride, pride, the first sin and the one that causes all of the others.  If we believe that we do not need to come to confession if we believe that we can go through our daily lives and come each Sunday to receive the precious body and blood of our Lord and savior Jesus Christ, without going to confession, then we are guilty of the sin of pride.
I have mentioned to you before that to be a Christian is to be different.  We are called not to be like the rest of the world, we are called to stand out and to take a stand and to show the world that we follow Jesus Christ regardless of the consequences.  As Orthodox Christians, we live our spirituality every day.  Again I have said, many times, that Orthodoxy is not just another religion or a denomination, no Orthodoxy is a way of life.  We have to live our Orthodoxy each and every day and the spirituality that comes with it.  Sometimes we believe that we do not have to obey the rules of our faith, and yes there are many, we want to do things the way we want to do them, again that is the sin of pride and is the essence of all other sins.
In the Epistle reading selected by the Church for today is written by St. Paul to his dear friend Timothy.  Paul writes this letter from prison in Rome.  Paul is facing the end of his life and the end of his ministry, and he is attempting to pass along just a bit of his knowledge to his friend.  Timothy is leading the Church in Ephesus, and they are starting to turn away from the faith.  Many false preachers have come into the city, and they are preaching all sorts of nonsense.  Paul is telling Timothy that he needs to hold fast, he needs to preach the truth no matter what happens.
Then he tells Timothy, "Yes, and all who desire to live godly in Christ Jesus will suffer persecution."  Paul, writing from prison, reminds Timothy that we will all face persecution.  In some ways,  they are facing that already.  Many have turned away from the faith there, and they are persecuting those who have not.  In our 21st century life,  we simply have no idea of what this must be like.  We live relatively persecution free lives here in America.  We can practice our faith as we see fit without any interruption of that.  But that has not always been the case.
We have all witnessed the violence taking place in Middle East towards Christians.  Systematically, Christians are being burned and beaten out of their homes.  Christians risk their lives to attend liturgy on Sunday and yet they come in record numbers.  Clergy, stand up in the pulpit and speak about what the government is doing and how wrong that is, and many of them are killed, martyred for it.  Our brothers and sisters are being murdered for no other reason than they are Christians, some of them by governments sponsored and supported by our own government.  We have a responsibility to stand up for injustice when we see it!  As Christians,  we have to come to the decision that we are going to live the Christian life no matter what the consequences.  It is not about coming to church, singing happy songs, and feeling good about ourselves.  It is not about changing what we believe based on the latest public opinion poll or who is in power.  It is about standing up for a principal, it is about standing up for what is right, it's about what St. Paul tells Timothy, "you must continue in the things which you have learned and been assured of."  It's about preaching the truth, even when the truth is not popular.  It's about adhering to the spirituality of the Church regardless of how hard it is to do.  It is supposed to be hard.
St. Paul warns Timothy today about evil men and imposters, these are the ones who are leading the faithful away.  But it is not just false teachers that will lead them away, St. Paul warns of greed, and the desire to always want more and more and more.  Yes, false preachers will lead people away with lies and false teaching, this is pride, pride that some know better than the Church knows.  Some will say, and have said that the Church is wrong, and I know better.  Luther, Calvin, Knox, Wesley and the list goes on.  We say we have found the true faith, and we either need to understand that and get serious about it, or we simply need to sit down and stay quiet.
We are about to enter the most challenging time of the Church year.  We are being asked to change the way we do many things, we are being asked to change the way we eat and how we think about food.  We are called to come to Church more often, to pray more often, and to change the way we think about our own sense of spirituality.  We are being called to realize that we are sinful people, and we need reconciliation with God, with the Church, and with humanity.  We are called to be different, and if you are not prepared to be different if you are not ready to turn away from the world and to focus your attention on the things that are Holy, then these weeks will help you to do that but only if you enter into them with that sense of needing to change.
Great Lent is the time of the year when we turn our backs on the world.  We have to be different during this time of the year. The time has come for us to stop paying lip service to the Gospel.  We cannot just come here week after week and nod our heads when we hear the Gospel teaching about loving each other, about feeding the hungry and caring for those who have less than we do.   We have to stop being like the Pharisee and start being more like the publican!
Last night at Vespers, and let me just say that if you miss Vespers you are doing yourself a disservice, we heard these words:
Brothers, let us not pray like the Pharisee! He who exalts himself will be humbled. Let us prepare to abase ourselves by fasting; let us cry aloud with the voice of the Publican: "O God, forgive us sinners!"
The time has come to make a decision.  The time has come for us to get serious and do the hard work that is required to call ourselves a follower of Jesus Christ.  The time has come to turn away from Pharisee and to turn towards the publican, it's your choice.