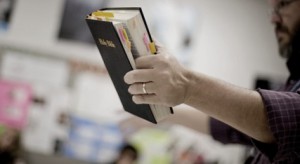 Jonathan Merritt ~ Religion News Service
On Sunday night, the long awaited mini-series "The Bible" premiered on the History Channel. Produced by reality TV mogul Mark Burnett of "Survivor" fame and former "Touched by an Angel" star Roma Downey in an effort to dramatize key stories from Scripture, the series is already being embraced by Christians nationwide. After all, when is the last time "Hagar" was trending on twitter?
Two days before the first episode aired, however, the couple penned a controversial opinion column in The Wall Street Journal titled, "Why Public Schools Should Teach the Bible." They argued that public schools should encourage or perhaps mandate teaching courses on the sacred book. This should apparently top the list of priorities in a time when America's educational system is faced with depleting resources and failing to keep up with the rest of the world's students.
Christian pastors and leaders in social media lauded Burnett and Downey's article as wise and appropriate. And while the timing of publication could not have been more perfect—the article reads like a thinly veiled marketing piece with a commercial for the television show inserted as the seventh paragraph—the  arguments are worth considering.
Should Christians support teaching the Bible in America's public schools?
The answer as I see it is a resounding "no" and not because I don't agree with some of Burnett and Downey's reasoning. Yes, the Bible has been a primary document of Western civilization. Yes, it is bursting with widely applicable wisdom and knowledge. But, no, Christians should still not support it being taught in public schools.
Too much of this debate has centered around the question of if teaching the Bible is appropriate in a public school setting, but few recognize that the question of how is far more contentious. The strongest support for implementing such a curriculum comes presumably from conservative evangelicals who mostly claim to read the Scriptures literally. They assume the Bible would be taught accordingly, but it most certainly will not.
According to a recent Gallup Poll, only 3 in 10 Americans say they read the Bible literally. Seventeen percent say the Bible is a book of fables or legends. And those who believe the Bible is "the word of God" decreases as their education level increases.
Those who teach these courses will most likely be non-literalists trained at secular state universities, not homeschooled conservative evangelicals or Bible college graduates. They may believe that the many "seeming contradictions" of the Bible are actual ones. If asked, they may teach students that the stories of "Jonah and the Whale" or "Noah's Ark" are mythic allegories, rather than historical accounts of miraculous events.
Do the Christians crying for a reintroduction of Bible courses want their children taught, for example, that the creation account in Genesis is little more than pretty poetry? It's safe to assume they do not. But most haven't thought this deeply about the issue.
Conservative Christians should know better than to advocate for such courses. After all, they have long decried the well-documented "liberalizing effect" of public college and universities who offer similar courses. Many conservative Christians leave home for college, take an introduction to religion course, and return with an entirely different worldview than their parents hold. Do they want the same experience with their seventh graders?
Support for teaching the Bible is not merely an obscure position held only by fringe conservatives. Last year, a poll conducted by conservative news outlet The Blaze found that 74% of the 1,658 respondents supported reading the Bible during class time. The outcry swelled in the wake of the Newtown shootings when some Americans wondered if prayer and Bible reading should be reintroduced into schools. When those elements were present, they reasoned, we didn't have tragedies such as Newtown and Columbine. (Proponents failed to recognize that school systems in many wildly secular countries like Canada haven't faced an epidemic of violence either.)
But if those conservatives who advocate for such a shift in public education get their way—and it is admittedly an unlikely scenario at best—it will likely be another case of getting what they want and then not wanting what they get. By advocating for teaching the bible in schools, Christians are unwittingly lobbying for something they could never accept. They think they want it, but they really don't.
As a lifelong evangelical, I've experienced firsthand the value of Biblical literacy. But in the end, this sacred text is best encountered where it can be taught according to the beliefs of individual faith communities. In homes and houses of worship, and for the next nine Sundays, on the History Channel.
Jonathan is a faith and culture writer whose hundreds of articles have appeared in outlets like USA Today, The Atlantic, and National Journal. His most recent book is "A Faith of Our Own: Following Jesus Beyond the Culture Wars."