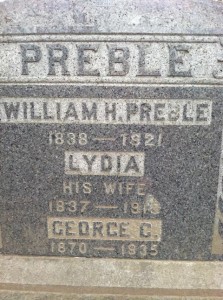 For the last 20 years or so, my brothers and I have been involved in researching our family heritage.  We have spent most of that time researching the Preble side of our family tree although there are many branches and all are equally important.
Yesterday, on my way to another meeting, I stopped by the Mount Feake Cemetery in Waltham Massachusetts to pay a little visit to a grave of my Great Great Grandfather William Henry Preble.  I never knew him, and I have never seen a picture of him and I am not sure why I feel certain closeness to him.  Maybe it has to do with his service in the Civil War as that is an area of research interest for me.  The strange this is my family is not what I would call cemetery people, we do not go and visit the cemetery, but I felt like I needed to take this little detour and visit his grave.
William Henry Preble was born in 1838 in Deer Isle Maine and by the age of 12 had moved with his family to Machias Maine.  At the age of 23 he enlisted as Corporal in Company H of the 9th Maine Infantry Regiment and went off to fight in the Civil War.  The 9th Maine fought alongside the 54th Massachusetts at Fort Wagner in South Carolina, this was the battle made famous by the movie Glory starring Matthew Broderick.  Not sure if he was wounded, but he is listed as sick and in hospital after the battle and he served the rest of the War with the Invalid Company of the Volunteer Reserve Corps on Long Island New York.
Upon his discharge he returned to Maine and continued his family.  Prior to 1880 he moved with his family to Wisconsin and took up farming.  Maybe this is where I get it.  By 1900 he had moved back east and settled in Waltham Massachusetts.  According to his obituary he was a contractor in Waltham where he lived the rest of his life.  He died in 1921 6 years after his wife of 57 years Lydia.
During my visit to his grave I noticed no mention of his service in the Civil War.  No marker was present at the grave or on his marker that is placed in the ground.  I am wondering if this is how he wanted it or if it was something that just was not done.  I asked in the office if flags were placed on veteran's graves and was told that if they know he is a veteran they will place a flag.  I am not sure how they would know since it is not marked.
I have made some inquiries about getting a marker for his grave as I believe it is important that veteran's graves are marker, it is the least we can do for those who served.
Why do I write all of this?  I believe it is important that we tell the stories of those who have come before us.  During the funeral service in the Orthodox Church, we sing may their memory be eternal, it is up to us to keep their memory alive.