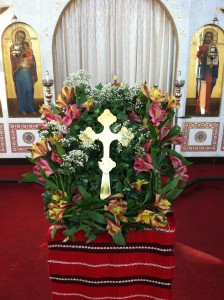 The Gospel of Mark 8:34-38; 9:1
The Lord said: "If anyone wishes to come after me, let him deny himself and take up his cross and follow me. For whoever would save his life will lose it; and whoever loses his life for my sake and the gospel's will save it. For what does it profit a man, to gain the whole world and forfeit his life? For what can a man give in return for his life? For whoever is ashamed of me and my words in this adulterous and sinful generation, of him will the Son of man also be ashamed, when he comes in the glory of his Father with the holy angels." And he said to them, "Truly, I say to you, there are some standing here who will not taste death before they see the kingdom of God come with power."

We have reached the mid-way point in Great Lent.  We have ascended to the top of the mountain and now that we have had a look around, it is time to continue the journey.  We pause today to meditate on the Holy Cross of our Lord and God and Savior Jesus Christ.
It has become unfashionable is some circles to not speak about the suffering of Jesus on the Cross but, as I like to remind people, if it was not for the Cross we could have the resurrection.  You see suffering was part of the journey of Jesus and suffering is part of our journey as Christians and we hear that clearly stated in the Gospel chosen for today.
This commemoration today not only reminds us of the coming Crucifixion of Christ but it also stands as a reminder that during the entirety of Great Lent we are crucified with Christ.  You have heard me say before, that this time of the year is supposed to be different than the rest of the year.  This is not a time for celebrations, for example in the Orthodox Church weddings are not performed during the time of Great Lent.  For the most part, major feast days are transferred on the calendar until after the Season.  I mean to say that as Christians we are supposed to live our lives different from the non-Christian but we are especially called to live differently during these weeks.
All during this season we are called to Crucify our flesh and our passions and we come to this mid-point and see the Cross of Jesus here before us, bedecked in flowers, to remind us of what waits at the end of the road.  We have made it half way, and the cross is placed here as an encouragement to make it the rest of the way.
I have told you Army stories before, but I can recall a time during basic training, I guess it was about half way through, and I did not think I was going to make it.  I was away from home for the first time, I was sore, I was tired, and I just wanted to give up.  Then I got a letter from my father.  I really cannot recall everything that was in it, I do remember something about buying a new lawn mower, but near the end of the letter he told me he was proud of me and all that I had accomplished, that was the shot in the arm that I needed and I got through the rest of basic training.  I am sure we all have stories like that, and today is a shot in the arm for us.  It is not time to look back, but it is a time to look forward.
During this time of the year we read mostly from the Hebrew Scriptures.  We read in Genesis about the creation of the world and the fall of our first parents.  Adam and Eve were created to live in paradise with God, Scripture tells us they walked with God.  But, as we hear in the Liturgy, through man sin entered the world and with sin death.  The Genesis account of the fall of humanity has a tree as a central feature of the story.  Sure Eve eats from the tree and gets Adam to do the same, but it is through the tree that we, humanity, allowed sin to enter the world.  It was the tree that requires us to carry this heavy burden of sin that we all have to carry.
But we also read in Genesis the story of Noah.  With the wood of the tree he builds and ark, the ark that saves a portion of humanity.  Not all of it mind you, only a part of creation is spared the flood waters that come.  Noah is called by God to take the wood of the tree and to fashion a vessel that will save humanity from itself.
A little further on we read of Abram.  Abram is called by God and given a son Isaac from his wife Sara.  We also know of Ishmael but that is a story for another day.  Abram, who will be called Abraham, is called by God to take his son to a mountain that God will show him, and on that mountain, he is to sacrifice Isaac on the fire.  Abraham and Isaac set out on the journey, and Scripture tells us, that Isaac is carrying the wood, the wood of the tree, that will be used for the sacrifice.  Sacrifice and burnt offerings were necessary for our ancestors in the faith, and Abraham was only fulfilling what God had asked him to do.  We know the end of the story and Abraham is spared sacrificing his son, but soon we will see this acted out in the Person of Jesus Christ and God will, indeed, sacrifice His only Son.
So now we see Jesus, the Son of God, the Logos, the Word made Flesh, all alone, being spit on and having insults hurled at Him, and across his shoulders is a piece of wood, the wood that will lead to His death.  You see, the tree brought death and destruction into this world and it will be that same tree that will bring everlasting life! What was started by the first Eve in garden, will culminate with the Son of the Second Eve, on the Cross at Calvary.
Scripture tells us today that whoever loses his life for the sake of the Gospel will indeed save his life.  We are to deny ourselves, take up our cross, and go boldly into the world.  We cannot carry the weight of the Cross on our shoulders if we are already burdened down with sin.  We may think our shoulders are broad enough to do it all but we cannot do it all and we cannot do it alone.  Jesus needed help to carry His cross and we need help to carry ours, that is what this season is all about, giving us the help we need to carry our cross.  If we do not take the time during these days of Great Lent to prepare ourselves then when the time of tribulation comes we will not be ready.
How do we do this?  How do we prepare ourselves?  Scripture tells us in a very clear way today, "If anyone wishes to come after me, let him deny himself and take up his cross and follow me."  We must deny ourselves and focus on what God wants of us.  We must fast and pray, attend the church services, understand our faith, stand up for injustice, feed the hungry, clothe the naked, give voice to those who have no voice, we must carry the Cross that each one of us has to carry and we need to do it with the boldness of faith and we must be willing to face whatever comes our way when we stand up and say I am a follower of Jesus Christ!  This is not an easy thing to do today, but it is something we must do!
At the end of Liturgy this morning we will come forward, we will make three prostrations in front of the Holy Cross and venerate it.  We do not simply kiss this Cross made of gold but through it we venerate what it represents in our lives, salvation and freedom from our sins.  Jesus did the work that He had to do; now it is time for us to do the work that we have to do.  We are at the mid-point in Great Lent.  If you have not engaged there is still time, do not be caught outside of the bridal chamber when the bridegroom comes, now is the time for preparation.