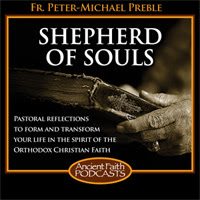 In the latest episode of Shepherd of Souls, Fr. Peter assures us that If we pray every single day, we will see a huge change in our lives.
Shepherd of Souls features the pastoral reflections of Fr. Peter-Michael Preble. This program endeavors to form and transform your life in the spirit of the Orthodox Christian Faith.
Fr. Peter-Michael Preble is the pastor of St. Michael Orthodox Christian Church in Southbridge, Massachusetts. Fr. Peter is a convert to the Orthodox faith and a priest in the Romanian Orthodox Archdiocese in the Americas.