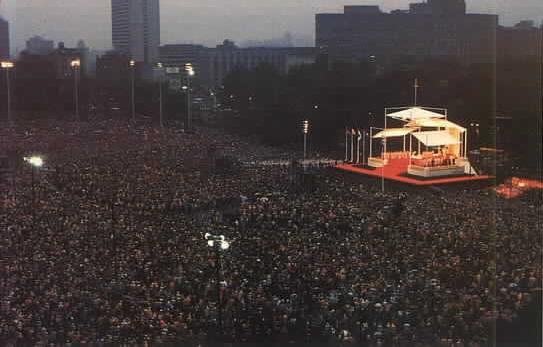 On Sunday, April 27, 2014 the world witnessed the canonization of two new saints in the Roman Catholic Church, Angelo Giuseppe Roncalli, known as Pope John XXIII and Karol Józef Wojtyła, known as Pope John Paul II.  I rejoice on this day with my Roman Catholic brothers and sisters.  I especially rejoice with the members of St. John Paul II Parish here in Southbridge, many of whom are in Rome to witness the canonization of their patron.
Some 35 years ago, on October 1, 1979 Karol Józef Wojtyła, the newly elected Pope John Paul II, came to Boston for the first time.  On that rainy afternoon on Boston Common, the Pope presided at a Mass under a specially built canopy.  I was 13 years old, and was amazed that the head of the Roman Catholic Church was in Boston and presiding at a Mass on Boston Common.  We were going to go to the Mass but it was raining so bad that we stayed home and watched it on television.
He was so young and energetic, on that October day on Boston Common, unlike the images we would see of him later in his life.  I cannot remember anything that he said on that day but this Pope would impact the rest of my life.  He would be Pope for the majority of my life and impact the church, and the world, in so many ways.  Some think he was too conservative and other think he was too liberal but I believe he was the right man at the right time, and he has laid the ground work for what I hope and pray, will be the ultimate reconciliation of East and West.  Pope John Paul II, along with Margaret Thatcher and Ronald Regan, have been credited with helping to end Communism in Eastern Europe and providing freedom to so many that had been held captive.
About fifteen years ago I was given a gift of a white metal cross that has a rather fascinating story.  On that October day in 1979, over the altar that the mass was said on, was a roof that was held up by steel columns.  After the Mass the altar and platform were dismantled and the steel removed.  The man who built the platform removed the steel and from that steel made metal crosses and I was given one by his daughter who was a fellow teacher at a Catholic school in Jamaica Plain.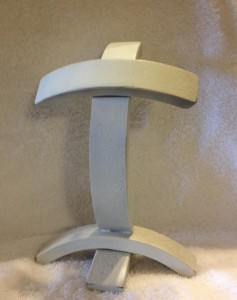 The Cross sits on a self in my living room and every so often I look at it and it reminds me of that day in 1979 but on this day, April 27, 2014, it reminds me that a saint once stood beneath or beside that metal, now made into a cross, and I say a little prayer.