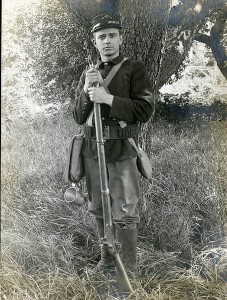 Over the next few weeks I will be presenting a series of posts on the activities of the Town of Southbridge Massachusetts during the time of the American Civil War.  This first installment covers the year of 1861.
The Town of Southbridge, located in southern Worcester County furnished 400 men to fight in the Civil War between the years of 1861 and 1865.  This was nineteen more than the required number from a Town the size of Southbridge.  Of this number four were commissioned officers and the total amount of money appropriated and spent by the Town for the support of the war was $17,313.65 exclusive of money sent to the Commonwealth for the support of the war.
The Selectman elected for the year of 1861 were Verney Fiske, Adolphus Meriam, and Malcolm Ammidown whose son would serve and be killed during the war.
The first town meeting called to act upon matters connected with the war was held on May 6, 1861 with the following votes passed at that meeting;
1.  To appropriate eight thousand dollars to raise and equip a military company and for the support of the families such as may be called into active service.
2.  That the selectman, together with William Beecher, J.O. McKinstry, John Edwards, and C.A. Dresser, be a committee to take charge of the appropriation, "and expend it according to their best discretion."
3.  That the committee be authorized to pay for each volunteer, who is a resident of Southbridge, one dollar and fifty cents a week to the wife, and fifty cents a week to each child under twelve years of age, "during the time of active service performed by said volunteer."
4.  To pay each enlisted man eight dollars a month while in active service, and fifty cents for each half day spent in drilling previous to being mustered into the military service – this to apply at the discretion of the committee to Southbridge men who have enlisted in companies formed in other towns.
A second meeting was called on October 7th and the Selectman were authorized to pay State aid to the families of soldiers as provided by law.
On November 5th the treasurer was authorized to borrow money for the payment said aid.
Based on information from the book; The History of Massachusetts in the Civil War Volume II, William Schouler, 1871, Boston.