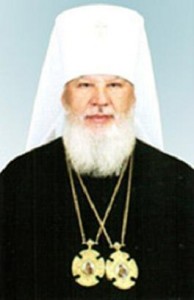 Moscow, May 7, Interfax – A senior bishop has appealed to the international community and the Ukrainian government to protect the Ukrainian Orthodox community that is part of the Russian Orthodox Church from violence.
"Today the Orthodox Church, its clergy and its believers are targets of open provocations and threats. The mass media are disseminating untrue information about the Orthodox Church, sowing hostility toward it and hatred for it among the population," the Moscow-run Orthodox Church's Metropolitan Agafangel of Odessa and Izmail said in a letter to UN envoys to Ukraine, the mission in Odessa of the Organization for Security and Cooperation in Europe, and the Ukrainian government as quoted by the press service of the Odessa Diocese.
"A wave of attacks on priests of the canonical Ukrainian Orthodox Church and attempts to occupy Orthodox churches has rolled through Ukraine. The Kiev Monastery of the Caves and the Pochayev Laura have been besieged. In Sumy, Archbishop Yevlogy has been threatened with being burned alive with Molotov cocktails along with the cathedral and diocesan administration. Some of the priests of the canonical church, including the governor of the diocese of Odessa, have been threatened with physical removal," Metropolitan Agafangel said.
The Church is praying for peace and conciliation, thereby setting "an example of spiritual unity of all believers regardless of their ethnicity and political views," he said.
He asked for measures to ensure "non-interference by political forces and their armed structures in the activities of the canonical Ukrainian Orthodox Church," to safeguard the property of the Odessa Diocese, and to protect the clergy and believers from violence.