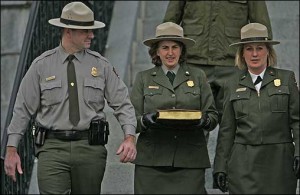 In July of 1839 a group of Africans took control of a Spanish slave ship off the coast of Long Island New York.  La Amistad (Spanish for friendship) was captured by the USS Washington and brought to port.  The Africans, on their way to Cuba to be sold into slavery, were held in prison as no one was quite sure what to do with them.
Their case went to court in Connecticut where competing interests held that the Africans were property and thus should be given to the rightful owners, the Government of Spain.  The Captain of the ship held that they belonged to him because he had not been paid for the voyage and wanted to seize the "cargo" as payment and the crew of the USS Washington believed they belong to them as bounty off of a salvaged ship.
In 1841 the case made its way to the United States Supreme Court and Former President John Quincy Adams, serving in Congress at the time, was asked to argue the case.  The court agreed with Adams, a staunch abolitionist, and ruled that the Africans were indeed being held as slaves and were set free.
The Mendi, in honor of their being set free, gave Adams a Bible, now called the Mendi Bible that sits on the table in the Stone Library at the Old House at the Adams National Historic Park in Quincy.
Along with the Bible was a letter of thanks addressed to Adams:
We are about to go home to Africa. We go to Sierra Leone first, and then we reach Mendi very quick. When we get to Mendi we will tell the people of your great kindness. Good missionary will go with us. We shall take the Bible with us. It has been a precious book in prison, and we love to read it now we are free! Mr. Adams, we want to make you a present of a beautiful Bible! Will you please to accept it, and when you look at it or read it, remember your poor and grateful clients?…

For the Mendi people. CINQUE, KINNA, KALE.
Boston, Nov. 6, 1841
Since the Bible was placed in the Library it has only left three times.  It was stolen in 1996 and recovered by the FBI in New Hampshire in 1997.  And it was used twice by Governor Deval Patrick for his inauguration.