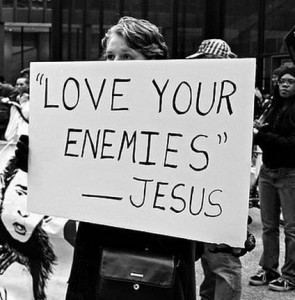 The Gospel of Luke 6:31-36
The Lord said, "And as you wish that men would do to you, do so to them. If you love those who love you, what credit is that to you? For even sinners love those who love them. And if you do good to those who do good to you, what credit is that to you? For even sinners do the same. And if you lend to those from whom you hope to receive, what credit is that to you? Even sinners lend to sinners, to receive as much again. But love your enemies, and do good, and lend, expecting nothing in return; and your reward will be great, and you will be sons of the Most High; for he is kind to the ungrateful and the selfish. Be merciful, even as your Father is merciful."
A Russian saint, whose name is known only to God, was once asked how we know whether a person abides in God and is sincere in his Christian faith.  The saint answered that there was "no other way of ascertaining this than by examining the person's life to see if he loves his enemies.  Where there is love for one's enemy, there also is God."  Love means to love that which is unlovable, or it is no virtue at all.
Love of ones enemies, I believe, is the hardest thing we are commanded to do as Christians, it ranks right up there with forgiveness, which is also part of loving your enemy.  Love is the only thing that can destroy hostility and evil and it throws our enemy off guard since he expects us to return his evil for evil.
There is a story of a man who had suffered some injustice at the hands of a third party.  He was speaking to a friend about this and his friend told him to "give him the devil."  Now this would seem to be a logical response, he harmed me so I will harm him, but then surprised his friend by saying, "he's already got the devil.  I'd like to give him God!"  Charm and disarm should be the way we handle these situations.
Getting to the point where we love our enemy does not mean we have to love or even accept what they do. "To love one's enemy does not mean to love the mud in which the pearl lies, but to love the pearl that lies in the mud."  We must love the person, and we must forgive the person, but we do not have to love what they have done nor do we need to forget it.
Why must we do this?
We do this that we might become children of God.  "Love your enemies… and you will be sons and daughters of the Most High" Luke 6:35.  But we must also love him because he is first an enemy of himself.  The bitterness that he holds towards you has poisoned his own cup and if we hate him in return that same poison will poison our cup as well.  Is hatred toward you has injured his soul.
We must love him because they need to be loved.  His soul is completely surrounded by his hatred of you and we are the only ones who can warm him and free him from his own bondage.  Hating him binds us and causes two souls to be lost and separated from God.  We love them because they need love and we love them because love is the only force capable of transforming an enemy into a friend and that should be our goal.  Returning hate for hate on multiplies the hate.  Only love can break the cycle and turn an enemy into a friend.
Ultimately the reason we are commanded to love our enemies so, in the words of Jesus, we will be "sons and daughters of the Most High."  We must love our enemies because only by loving them can we truly know God and experience the beauty of His holiness.  We know God by loving those who are unlovable.
So how do we do this?
First we have to love God.  If we do not love God then it will be difficult to follow His will for our lives.  The love of God is the first part of anything we do in our lives as Christians.  We love God by following His commandments but we have to know those commandments and understand them in order to love God.
Second, we do good to them that hate us.  St. Paul says, "If your enemy is hungry, feed him: if he is thirsty, give him drink… overcome evil with good" Romans 12:20-21.  Doing something for your enemy will help him to remove the bitterness from his heart.  But we must take the first step.
Third we pray for him.  How many of us pray for those who have set out to destroy us?  In the Divine Liturgy of St. Basil the Great we pray for those who love us and those who hate us.  The highest privilege we can offer someone is to pray for them, and it costs us nothing to do so.  No person can pray for another and still hate them.
Forth we look for some good in our enemy.  People are created in the image and likeness of God and therefore they are created good.  People learn to hate they are not born to hate.  All of creation has the capacity for good and we need to find that in the person who hates us.
And finally we have to develop the capacity to forgive.  Without forgiveness is it impossible to even being to love one's enemy.  The forgiveness must begin with us, the one who has harmed or wronged in some way.  Only the one who has been injured can pour out the warm waters of forgiveness.  If we withhold forgiveness from someone then we are withholding the medicine that person needs to find healing.
"But love your enemies, and do good, and lend, expecting nothing in return; and your reward will be great, and you will be sons and daughters of the Most High; for he is kind to the ungrateful and the selfish. Be merciful, even as your Father is merciful."