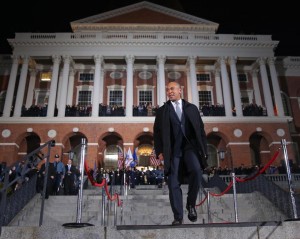 On January 3, 1884 Massachusetts Governor Benjamin Butler left his office in the Massachusetts State House for the last time and began a tradition that has come to be known as the Lone Walk.
Since that date each departing governor of the Commonwealth of Massachusetts has left his office, walked down the Grand Staircase, through the Hall of Flags, containing flags of all of the cities and towns in the Commonwealth, into Doric Hall and out the main doors of the State House.
By tradition the main doors are only opened when a governor leaves office, a head of state comes to visit the Commonwealth or the flags of Regiments from Massachusetts return from war.  On January 7, 2015 those doors were opened when Deval Patrick made the lone walk on the eve of the inauguration of Charlie Baker who will become the 72 Governor of the Commonwealth on January 8, 2015.  When Benjamin Butler made the lone walk in 1884 he kicked the front doors open and left.  It should be noted that he did not leave office by his own choice, as Governor Patrick is, but because he lost the election to George D. Robinson.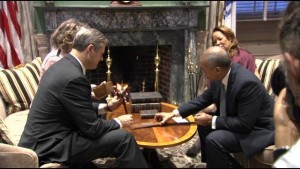 Prior to the new governor being sworn in there is an exchange of symbols.  The ceremonial pewter key to the governor's office door, the Butler Bible, the gavel that will be used when chairing meetings of the Governor's Council, and a two volume set of the Massachusetts General Statutes inscribed with a personal note from the departing governor and all previous governors.  The Governor elect is then escorted to the House Chamber where he is sworn in by the Senate President.
As the Governor walks down the steps of the State House guns from the 101st Field Artillery of the Massachusetts Army National Guard will fire a 19 gun salute.  The Governor will cross Beacon Street and enter the Boston Common symbolically joining the ranks of the everyday citizens of the Commonwealth.
Governor Patrick will continue the tradition begun in 2007 by his predecessor Mitt Romney and will take the lone walk the day prior to the inauguration of the Governor elect.  In an interview Patrick remarked that he wanted the day to be about the Governor elect and not about him.
It has been said that it is lonely at the top so it seems fitting that the departing chief executive leaves the State House for the last time alone.