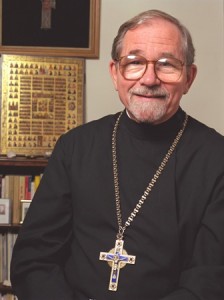 This is a very sad day for the Church.  The Servant of God, the Protopresbyter Thomas has fallen asleep.  I met Fr. Tom many years ago, long before I was Orthodox, and he has been a great inspiration to me through his many books and his podcasts on Ancient Faith Radio.  May his memory be eternal!
Posted from the family website:
MEMORY ETERNAL!
Fr. Thomas reposed peacefully today, March 18, shortly after 3 pm.
The last of his five children, who had not been able to visit him at the hospice until today, arrived this morning. She told him that she came, and now he could go. And, by the mercy of God, he reposed after spending much of the day with her.
No funeral plans yet. They will be posted as soon as they are available.
MEMORY ETERNAL!