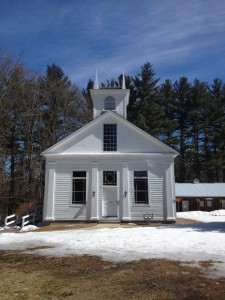 Located on the grounds of the Swift River Valley Historical Society is the former Methodist Episcopal Church of North Prescott Massachusetts.  Built in 1837 this building was slated for demolition during the creation of the Quabbin Reservoir.  The people of the former town of Prescott Massachusetts did not wish to see their church demolished and so the pooled their resources and purchased the building.  The Building was quickly mover to a nearby parcel of land in Orange Massachusetts and in 1985 it was moved to its present location in New Salem Massachusetts.
Today the church is used as a museum holding artifacts from the Town of Prescott as well as Society office space in the basement.  It is also used for programs and the occasional wedding.
I wrote about the story of the creation of the Quabbin Reservoir in 2014 and you can read that article here.