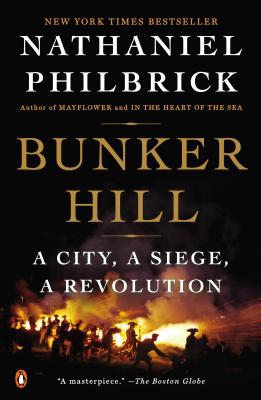 A couple of weeks ago, I participated in a reenactment of the Battle of Bunker Hill.  It was  a fascinating experience to be involved in such an historic event and I came to the realization that, although I only live a few miles away from the actual site of the Battle, I had never been there and I did not know that much about it.  I turned to my friend Liz Covart who hosts the outstanding podcast Ben Franklin's World and asked her for a suggestion of a good book about the battle.
As with any historical topic there are many books about the Battle of Bunker Hill and I always lean towards recent scholarly works when seeking out information on historical topics.  In the past I have been accused of being a revisionist historian but I feel that recent scholarship is the way to go.
Liz recommended the book by Nathanial Philbrick Bunker Hill, A City, A Siege, A Revolution so I set off to the book sellers and purchased it straight away.  Released in 2013 by Viking Press this handsome book of more than 350 pages of text and illustrations is hard to put down.  Philbrick takes the reader back in time not only to the Battle of Bunker Hill but to the very complex series of events that leads up to the Battle Itself.
Writing simply about the Battle would have been a challenging event in and of itself but to discuss the reasons, and the characters, behind the events is even more important for the reader to truly understand what this had to happen.  Just like any discussion about the causes of the Civil War, the causes of the American Revolution cannot be boiled down into a nice little bundle and it is often not what one would think.
I am little less than halfway through the volume but I already have a much different perspective on the Battle and on the events leading up to it.  I look forward to reading the remained of the book.