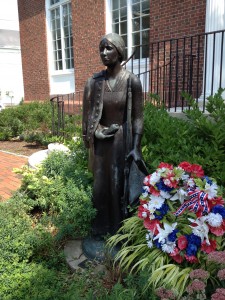 Hunting around for something to watch on television I stumbled upon the program Mysteries at the Monuments.  I like history, so the idea of finding out of the way monuments and showing their story was appealing to me.  On this particular episode, there was a story about a bronze statue located in front of the public library in Sharon Massachusetts.  Dedicated one of its famous residents, the figure depicts a Revolutionary War hero.  What makes this sculpture unique is that it represents a woman, dressed in uniform and carrying a musket off to war. That woman was Deborah Sampson.
Deborah Sampson was born in Plympton Massachusetts in 1760.  Her mother was a descendant of William Bradford, once the Governor of Massachusetts and her father was a descendant of Myles Standish, the military leader of the Pilgrims. Patriotism was in her blood from both sides of her family.
Reading about the horrors of war, the patriotic Deborah decided that she had to try and enlist.  Enlistment of women into the army was prohibited so she cut her hair, bound her breasts with bandages, took on the name of her deceased brother, and enlisted in the military as Robert Shurtliff Sampson in 1782.  She had no trouble, she was five feet eight inches in height, unusual height for a woman in the 1780's.  She became part of a light infantry company of the 4th Massachusetts Regiment and was sent off with the regiment to fight.
On July 3, 1782, outside of Tarrytown New York, Deborah was wounded with two musket balls in her thigh and a large gash on her head.  Knowing that if she were transferred to the hospital should be discovered, she begged her comrades to let her die rather than be sent to the hospital.  They sent her anyway, and after her head was bandaged, she left the hospital.  She treated the musket ball wounds herself with a penknife and a needle and thread.  She was only able to remove one of the balls since the other ball was too deep.
After her recovery, in 1783, she was promoted and served as a waiter to General John Paterson.  During this time of service, Deborah was stricken with malignant fever and was sent back to the hospital.  Unconscious when she arrived the treated physician, Dr. Barnabas Binney.  While the doctor was examining her, he noticed the bandages around her chest.  Assuming it was from some other wound; he removed them and was taken by surprise by what the bandages were hiding.  Knowing that she would be discharged immediately, the doctor did not betray her and took her to his home where his wife and daughters nursed her.
In September of 1783, the Treaty of Paris was signed, and the war was over.  Dr. Binney asked Deborah to deliver a note to General Paterson, and she thought for sure that her story would get out and she would be thrown out of the Army.  This was not to be and on October 25, 1783 she was given an honorable discharge at West Point New York from General Henry Knox, given a sum of money to cover her medical costs, and sent home.  She boarded a ship from New York to Providence Rhode Island and walked the rest of the way home to Massachusetts.
Deborah Married Benjamin Sampson in 1785 and had three children.  The family fell on hard times and in June of 1792 Deborah petitioned the Massachusetts State Legislature for a pension for her service in the Army.  In granting her a wounded soldiers pension the Massachusetts Legislature wrote that she, "exhibited an extraordinary instance of female heroism by discharging the duties of a faithful gallant soldier, and at the same time preserving the virtue and chastity of her sex, unsuspected and unblemished."  She was given a pension of 34 pounds plus interest dating back to her time of discharge.
The family was still on hard financial times and in 1804 Paul Revere wrote to Congressman William Eustace asking him to petition Congress to grant Deborah a military pension writing, "I have been induced to enquire her situation, and character, since she quit the male habit, and soldiers uniform; for the more decent apparel of her own gender…humanity and justice obliges me to say, that every person with whom I have conversed with her, and it is not a few, speak of her as a woman with handsome talents, good morals, a dutiful wife, and an affectionate parent." In 1805, Congress granted her a military pension of four dollars a month.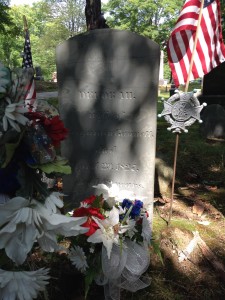 She continued her fight for the pay that was supposed to have been given her as a veteran of the war but was being withheld because she was a woman and in 1809 she petitioned Congress again asking that her pension given in 1804 would be retroactive to the date of her discharge.  The petition was initially denied in until 1816 when the Congress approved her request, and she was granted a full and complete army pension.
Deborah Died of Yellow Fever on April 29, 1827, at the age of 66.  Deborah remembers not only for her fighting, and the fact that she was wounded and treated her wounds, but the fight that she waged the war for equal treatment not only for herself but for all veterans of the war.
I am glad I stumbled across that television program and glad was I was introduced to this heroine of the American Revolution.  I took some time the other day and stopped by her final resting place to say a word of thanks and to offer a prayer.  This simple patriotic woman, defying the odds and the establishment, did what she thought was right and fought for her country.