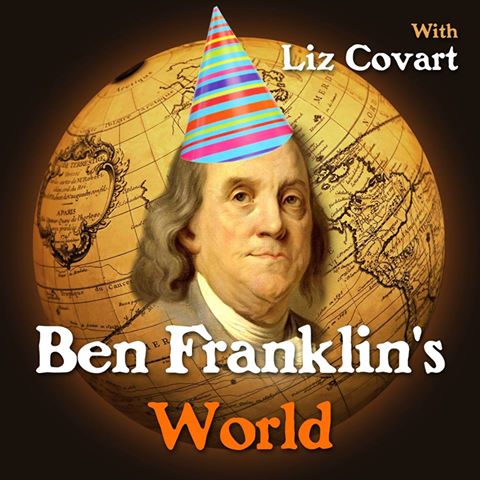 My office is the front seat of my vehicle as I travel from facility to facility visiting hospice patients.  As such, I spend an enormous amount of time on the road, I logged almost 700 miles the last two weeks.  As there is nothing worth listening to on the radio I turn to podcasts and one of my favorites is Ben Franklin's World hosted by historian Liz Covart.
I mention this podcast because it has reached a milestone. The podcast is a year old this week and has produced 50 episodes.  Most podcasts do not make it past eight episodes, so Liz is on to something here.  What Liz is trying to do is make history accessible to the average person, and her and her guests boil down complex issues into something that we all can understand and appreciate.
The Podcast, as its title would suggest, focuses on the time period of the early Republic but can stray away from that from time to time and gives us, the listeners, some insight into the world of our forbearers.  This is not the history you learned in elementary school, in fact, some episodes challenge traditional beliefs about issues and makes you think.  Sometimes I agree and sometimes not but I appreciate the fact that Liz is having this conversation and making me think.
But, the conversation does not end there.  Liz has created an online community on Facebook for listeners of the show where the conversation can continue.  Hundreds of fellow listeners chime in on all sorts of historical topics and issues, and I have had some kind of cool discussions with folks.  Liz is also very active on Twitter where she tweets about all kinds of things for history to our beloved Boston Red Sox.  She even hosted a meet up this summer in Boston, and although I was not able to attend, it was a great success.
So here's to another year of Ben Franklin's World!  Great job Liz!