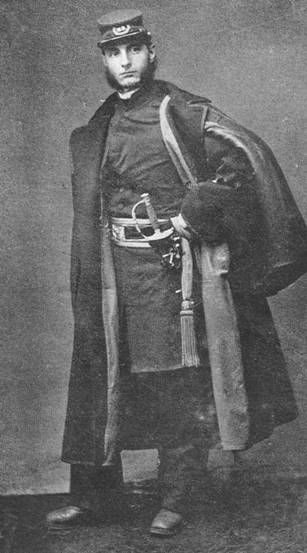 "Good-by for a year."1
These were the words spoken by the Harvard-educated Unitarian minister in Boston as he prepared to leave for service with the with the 47 Massachusetts Infantry Regiment in the United States Civil War.
His French mother had wished for a son who could preach, and her dream came true on February 4, 1833, when George Hughes Hepworth was born in Boston.  He earned his Doctorate from Harvard University in 1855 at the age of twenty-two and began a pastorate on the Island of Nantucket.  He returned to Boston in 1858 and would serve there for another twelve years.  It was during this time that the news of the Civil War was brewing.
According to his writings, Rev. Hepworth saw the Civil War not only as an "apocalyptic showdown between good and evil but as a historical, God-driven break between two ages."2  He saw it has his duty to do what he could to aid in this struggle and when he told his congregation, I can stay no longer," they said to him, "Go, and God speed to you!"
Rev. Hepworth was commissioned Chaplain on November 6, 1862, with the 47th Massachusetts Volunteer Militia that had been called up for nine months of service.  On the day he reported for service, the church bells began to ring, and he thought the bells had a message for him.
"Chaplain, the work before you are hard but grand. A thousand mothers, wives, and daughters have given those they dearly love their country. A thousand homes will support your arms while a thousand altar-fires will burn low for nine long months; and many, Alas! will never be kindled into their wonted brilliancy, because there is war, bloody war, in the land. Look to your duty. Pray for the boy, who, until now, has never known temptation; warn the husband and the father who is walking, as fast as he can, in the road that leads to moral death, and who will bring back his family, at the end of his term of service, a poisoned mind and heart; and when the dark day lowers, and the air is thick with battle-smoke, speak, with the Master's authority, the 'Peace, be still!' to those who have fallen; and open, with the hand of friendship and of prayer, the door of heaven, that they may enter to receive their reward."3
The 47th Regiment was organized at Camp Stanton in Lynnfield Massachusetts and then transferred to Camp Meigs in Readville to complete their training.  The regiment was transported by steamer first to Long Island New York and then on to New Orleans.  Finding regimental chaplain life a disappointment, Rev. Hepworth resigned his chaplain Commission after three months service on February 11, 1863, to accept a commission with the 76th Regiment US Colored Troops.
After the war Rev. Hepworth returned to his Church in Boston and would eventually end up in New York where he advocated help for those displaced by war especially the many former slaves that were coming to the north.
Upon hearing of the Kurdish Massacres in Armenia, Rev Hepworth traveled to Armenia to discover the truth about these events.  He wrote about his experience in "Through Armenia on Horseback."  Shortly after his return from Armenia, Rev. Hepworth's health began to fail him, and he died on June 7, 1902, and were buried in the Forest Hills Cemetery in Jamaica Plain Massachusetts.
During his time at Harvard, he began to question slavery that contributed to his thoughts on the war and his work after the war until his death.  His was a brilliant mind, and I have no doubt that he brought much comfort to those he served with.
_____________________________
1. George H. Hepworth, The Whip, Hoe, and Sword, The Gulf Department in '63 (Boston: Walker, Wise, and Company, 1864)
2. Benedict R. Maryniak, The Spirit Divided: Memoirs of Civil War Chaplains : the Union (Mercer University Press, 2007)
3. Ibid.