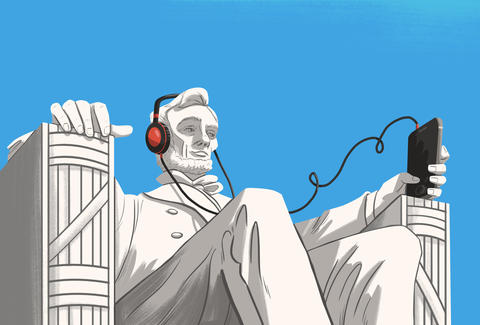 I am an avid podcast junkie.  I used to spend hours driving from one place to another on a weekly basis and I was tired of talk radio and commercial radio stations, so I switched to podcasts to keep me entertained.  I have listened to all sorts of podcasts, and even produced and hosted a few, but most recently I have been listening to history podcasts.  Now, there are many good ones out there, but I have selected the ones that I listen to and would highly recommend all of them to you.  I will include links and they all can be found on iTunes or any of the other podcast feeds.
The list is in no particular order although I will start with my favorite.
Civil War Talk Radio
Host: Gerry Prokopowicz, Professor of History at East Carolina University
This podcast is exactly what the name suggests; it is all about the US Civil War.  Prokopowicz interviews authors and others working in the field of Civil War History in a way that is rare these days.  This is a weekly podcast although he takes the summer off.  It is always nice when a new show pops up in my feed.  If you only listen to one show, this is the one to listen to.
Ben Franklin's World
Host: Dr. Liz Covart, Independent Scholar
Ben Franklin's World is an early American podcast that has truly grown into one of the greats.  If I had to make one criticism it is that Liz is a bit stiff and scripted during the program reading her dialogue and questions for the guests on the show. However, it is fantastic and continues to get better with each program.  Liz is a master interviewer and really gets into the meat of the subject with her guests.
In the Past Lane
Host: Edward T O'Donnell, Professor of History at Holy Cross College in Worcester, Massachusetts
I just came across this one and it is fantastic.  This is more of a general history podcast where the previous two have focused on a specific time or incident in history, In the Past Lane takes a broader view and covers a wide swath of history.  I am just getting into this one but so far I really like it.
Extreme Genes
Host: Scott Fisher
This is for the genealogy nuts, like me, out there. Although it is very commercial, the host takes breaks to shill products, the interviews and other segments are well worth the effort for the genealogist but also for others interested in preservation and history.
HUB History
Hosts: Jake Sconyers & Nikki Stewart
HUB History is a podcast about the history of the Hub of the Universe, Boston Massachusetts.  Jake and Nikki do an amazing job of presenting topics relating to Boston in a very well researched way.  The podcast always starts out with a segment on "this week in Boston history" presenting the historical events of Boston from its founding to present day.  The production quality of this podcast is not as great as some of the others, volume goes up and down, sometimes it's hard to hear the hosts, etc. But all in all a great podcast.
The Rogue Historian
Host: Keith Harris
Another general history podcast that comes at history from a very entertaining and refreshing perspective.  This podcast pulls no punches and deals with the nitty gritty of history, you know, the stuff we don't like to talk about.
The Way of Improvement Leads Home
Host: John Fea, Professor of History at Messiah College
The newest of the podcasts on my list this is another general history podcast.  Dr. Fea starts with a monologue of sorts that sets up the topic and he usually interviews and author or historian about the topic at hand.  Dr. Fea has a blog under the same name that is one of the blogs I read daily. (I think I will write a post for my blog about blogs I read, some of them are about blogging.)  I digress, this is another podcast that just keeps getting better.
The JuntoCast
Hosts: Various
This one seems to have stopped production although past episodes are still available.  Centered mostly on early American history, this podcast is hosted by a variety of historians and is probably the most academic of all of the podcasts.  When in production it was a monthly podcast.
Backstory
Hosts: Various
Backstory began as a program on NPR that subsequently became a podcast.  I am not a frequent listener to this podcast although it still appears in my feed. The focus in general history and this is the most polished production of all of the podcasts.
So there you have it.  Happy listening.  Remember, and this is a much to myself as all of you, if you listen, and enjoy any of these podcasts, take a moment to post a review or drop the host a line.  As a former podcaster, feedback from the audience is most helpful.