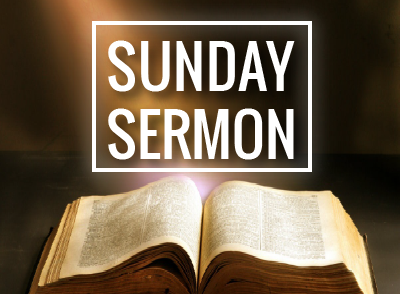 Under normal circumstances, I must remind myself that we are still in the Easter Season. Usually, by this time, the lilies have all gone away, the candy is gone, the Easter basket has been put up for another year, and life has returned to normal. But the Easter season lasts until Pentecost, still many weeks away.
Today we travel with two people as they are taking a journey from Jerusalem to Emmaus. Scripture tells us that this is a seven-mile journey that would take part of a day to complete. We know one man's name, Cleopas, who we hear about during the readings of Holy Week. Cleopas is a disciple or a follower of Jesus but not one of the twelve. Tradition tells us that the other person is Luke. It was a standard literary device not to include the author's name if they appeared in the story.
The assumption is that this story takes place after Pentecost when the Holy Spirit comes upon the Apostles, and Peter gives his sermon. We will hear more about that in the coming weeks. But now, for Cleopas anyway, he must get back to work and to his family, and his life. But he has this seven-mile journey to take.
Everyone is trying to figure out what they had just witnessed. For three years, they traveled around with Jesus and listened to him speak. They were overjoyed to be in his presence as he taught them, ate with them, and just hung out with them. But now they are dealing with the events that had taken place leading up to his death, and when they thought it was over, they hear this tale that he has risen from the dead!
Although Luke only gives us one line of their conversation, I can only imagine what the conversations must have been like along this journey as they tried to figure it all out. But they have seven miles to talk and talk they do.
Along comes a stranger and asks them what they are talking about, and why are they sad? The author tells us that it is Jesus, but they cannot see him for who he is. The resurrected body is so different than the one they knew, and so Jesus is not immediately recognizable. Scripture tells us that they were "kept from recognizing him." Jesus does this intentionally so he can hear what they are honestly saying. If they knew it was him, their story would change, and he wants to listen to what they are thinking.
Jesus knows that his followers have doubts; he just dealt with Thomas, so Jesus is going to use this opportunity to teach them the Gospel message.
I love the sarcastic question Cleopas asks, "Are you the only stranger in Jerusalem, and have you not known the things which happened in these days?" The translation of this is, "have you been living under a rock?" I am sure we have all come across folks like this. Something big is going on the world, and you are speaking with someone who has no clue about what is going on, this is what they think is going on here.
Jesus decides he is going to play along. He wants to know their version of the story. We all hear what we want to hear, and we all see what we want to see. All of us listening right now to the words I am saying if I were to ask all of you after I was finished, what I said I would get some vastly different responses. It would also be a test to see who is listening. All of us color what we hear with our images and prejudices and knowledge. We bring our past understanding of issues to the table, and sometimes, we do not want our position to change, so we dig our heels in and hold fast to our understanding.
Cleopas tells Jesus his version of the story, including this line, "But we were hoping it was he who was going to redeem Israel." In other words, Cleopas was hoping that Jesus was the military Messiah they were expecting to free them from the Romans. Cleopas, and many others, completely miss the point.
Jesus says to them, "O foolish ones, and slow of heart to believe in all that the Prophets have spoken." But he did not leave them there; he taught them starting with "Moses and the prophets." Their hearts were burning when they came to the end of their journey so much so that they asked him to stay with them, and he did. Jesus stayed with them and broke bread with them, and that is when they recognized him.
Right now, we are on the road to Emmaus. Something has happened that we are trying to figure out. Like the followers of Jesus in Jerusalem, Easter has passed, and we are trying to figure out just what has happened. Our lives have been turned upside-down, and we are wandering down the road, discussing and trying to figure it all out. We are huddled behind locked doors, many afraid to go out. We have been cut off from our support system and our Church community. But we are not alone on this road, and although we may be "kept from recognizing him" by our stuff, Jesus is walking with us at this very moment.
Our world today is so vastly different from what it was just a few weeks ago, and my guess is, it will never see the same again. We have an uncertain direction in many ways we are like the apostles in that ship in the very first sermon I preached here, we are desperately trying to cling to the ship whilst the storm rages around us not knowing what to do. And you know what, it is okay. The road to Emmaus is seven miles long and will take some time to walk.
When I was a hospice chaplain, one of my patients has been a marathon runner. It was hard to believe it by looking at him in his present state, but he would show me pictures of the races he ran. He and his wife traveled the world to run in various marathons, each one a little harder than the previous one. We were discussing his training regiment one day, and I asked about the mental side of it all. He said the physical was not that difficult; it was the mental that used to get him, especially at the halfway point.
So, he let me in on his little trick; he ran the marathon one step at a time. Each time his foot hit the ground, he would tell himself he was one step closer to the finish line. He could not think of the marathon as a 26-mile race or whatever. He could not even think of it as a mile at a time; he needed to think of it as one step at a time.
A person in recovery is taught to think of their recovery as a life-long process that we take "one day at a time." Friends, I cannot tell you when this will all be over, and we can get back to what we once thought of as normal, but I can tell you that Jesus is walking with us along that Road to Emmaus and if we ask him to stay with us, he will.
We may not always be able to recognize him, but he is there in small acts of kindness. In the smile from behind the mask, Jesus is with us and will never leave us. It is okay to doubt; it is okay to be afraid; it is okay to grieve what we had and what we might never get back; all of this is fine. But listen for the voice in the storm that will bring you some peace. Ask Jesus to sit at the table with you and break bread and let us return to the place where our hearts burn within us.