I am not the type of man that has many friends. It is not easy for me to let people into my life, so I tend to keep most people at arm's length. But every so often, someone special crosses your path, and you just know that this guy, this person is a true friend. For me, that person is Joe.
I first met Joe virtually before that was even a thing. I had only been ordained a few years, and I was finding my progressive theological voice, and I stumbled upon this guy from Scranton who taught me about living the Gospel in everyday life. Joe cares deeply for everyone that he encounters. Joe lives the Gospel of Jesus Christ and his command to love your neighbor without condition. Joe is a strong advocate for everything that he believes in and fights hard for those beliefs.
Although I met Joe about 13 or 14 years ago, it was not until 2018 that we met in person. Joe had helped me find my progressive theological voice, and I had moved on from the denomination that ordained me and was serving in another, more progressive denomination. Joe had been ordained a priest in the Independent Old Catholic Church, one of the churches affiliated with Utrecht in Holland. Old Catholic Priests have valid orders but are not under the authority of Rome. I asked Joe if there was room for an ex Orthodox priest now serving in the United Church of Christ, and he paved the way for me to join. Joe was standing beside me when I knelt at the altar in the War Memorial Chapel at the Washington National Cathedral as I was welcomed into the fold.
Joe is a dreamer and a planner, and we talked for hours on the phone and on Zoom about the Church and how we were going to make it a place that welcomed everyone regardless of their background or any of the other things that keep people out of Church. We wanted a different Church, not one hung up on buildings and material wealth, but that worked to make lives better for not just a chosen few, but for everyone. Yes, I know it is a lofty dream, but Joe made it sound possible. Joe so desperately wants to spread the love of God to everyone.
Last fall, Joe was elected Auxiliary Bishop of the Diocese of the Eastern United States of the Independent Old Catholic Church. At the same time, I was elevated to Monsignor, and I saw Joe's fingerprints all over that honor that was bestowed on me. I had the honor of being the Master of Ceremonies for his consecration, and what will be one of the greatest joy of my life, I celebrated the Eucharist with him at the High Altar at Washington National Cathedral. That holy ground where so many theological giants have stood and that place from which the message of love rings forth each and every day.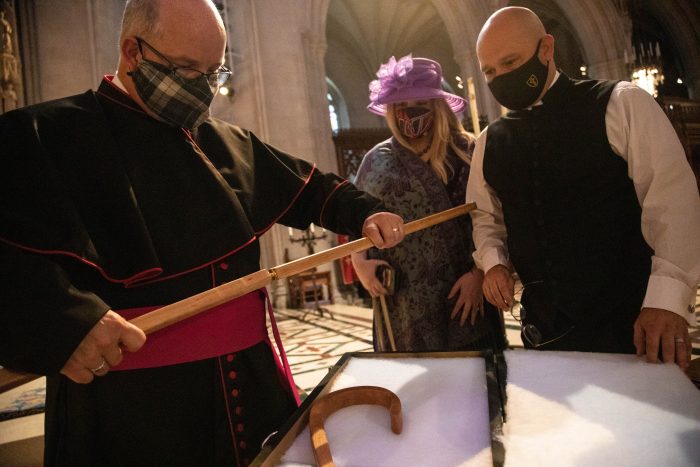 Joe did not know this, but I had decided that my gift to him was to create his Bishop's Staff his crozier, the symbol of his Episcopal Office that he would carry with him for the rest of his life. I crudely fashioned it out of wood as a reminder to Joe of the wood of the Cross of Jesus the Cross that we must bear each day in ministry. It was not perfect, and there were some rough spots, just like in our spiritual lives, but over time, with use, those places would become smooth. I had the privilege of presenting my gift to him at his consecration.
Joe was there for me when my mother died, and he was there again, two years later when my father died. Joe was one of the first people I told about my wife and me expecting our daughter. And Joe was one of the first I told when she was born this past April. Joe shared my moments of great joy and great sorrow. Joe is my mentor and my confessor.
On Wednesday, my friend Joe died, and his death has left a large hole in my heart.
I think I can honestly say that Joe was more than my friend, Joe was my brother, and I loved him. Joe will be missed by so many, but I have to smile thinking about Joe sitting with Jesus, arguing some fine point of theology.
My friend, I never told you how much you mean to me, and I am sorry for that; I hope I brought a little humor into your life. Joe and I used to Facebook Message each other these funny little MEMEs and other things that we might not want to post on Facebook. The day before he died was the feast of the Chair of St. Peter. I took a picture of my chair, the very chair I am sitting in to write these words, and I sent it to him and wished him a happy feast day. He responded with a heart, and that was the last communication I had with my friend.
Joe, you will always be in my heart. Thank you for all that you taught me. Thank you for giving me the courage to preach God's message without apology. I hope I make you proud.
Love you brother!