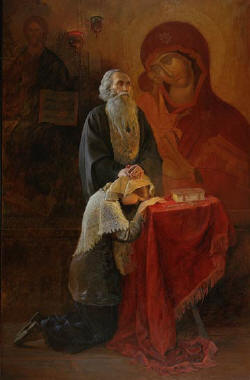 In my last essay, I wrote some thoughts about the formation of Orthodox clergy in the 21st century.  One aspect of that formation is the relationship of the seminarian, and then the priest, to a spiritual father.  I believe that this is a vital ministry in the Orthodox Church and one that has fallen away a little here in America.  This, I believe, is due to the fact that we do not have enough of a stable monastic witness.  We need to encourage and train more authentic spiritual fathers if we hope to continue the spiritual tradition that Orthodoxy is known for.
Last year I wrote an essay about Spiritual Fatherhood in the Orthodox Church.  Rather then rewrite that essay here I thought I would just like to it in this post.
As I said yesterday, I do not have all the answers and my hope with this series of essays is to begin a conversation around the topic of priestly formation.  I also propose that after this discussion we then have a discussion of formation of the layity as another very important part of our mission here in America.
Spiritual Fatherhood in the Orthodox Church