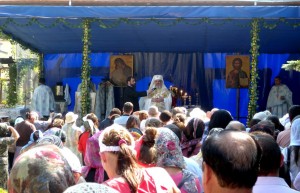 Friday, 27 July 2012, His Beatitude Daniel, Patriarch of Romania was present at the celebration of the saint patron day of Saint Maria – Techirghiol, patriarchal stavropighia.
In the sermon delivered, the Patriarch of Romania showed that Saint Great Martyr Pantelimon represents a model of mercy and kindness for all those who suffer.
His Beatitude has also emphasised the importance of the prayer said for the sick: "Today, we pray Saint Great Martyr Pantelimon to protect us, to give us good health, help us heal the diseases of our soul and body and help us, at the same time, be more merciful because his name contains the mercy virtue. May the merciful one help us be merciful too and be able to help the poor, sick and grieved with our prayers, good words, a loaf of bread, and some money for medicine! We badly need to think of those who suffer. If we are in good health we must thank God for it and pray, at the same time, for the good health of those around us. If we help the sick, we visit them, show them mercy as Saint Patelimon did, and then we feel in us the joy of the presence of the merciful Christ in our life and become the merciful hands of Christ for our fellow beings", informs us Trinitas Radio station.
To end with the Divine Liturgy, His Beatitude Patriarch Daniel consecrated the icon of Saint Great Martyr Pantelimon made of the mosaic of the fountain in the monastery court.
"This mosaic icon of Saint Great Martyr Pantelimon was consecrated by God's grace. We thank Rev Archimandrite Cleopa Nistor who had this icon framed", said His Beatitude.
Situated close to the shore of the Black Sea, in Techirghiol resort, "Saint Maria" Monastery dates as far back as 1928, when patriarch Miron Cristea bought a house with 16 rooms here. Later on, in 1951, a wooden church was brought here from the royal sheepfold of Sinaia, making a nuns' skete. After several extensions, in 1999-2000 a treatment centre was arranged here, under the protection of Saint Pantelimon, which operates at present within the social-pastoral centre of Saint Maria. In 2003 the construction of the new brick church dedicated to the "Falling Asleep of the Mother of God" began, and in 2009, His Beatitude Patriarch Daniel consecrated the chapel dedicated to "Saint Pantelimon" at the semi-basement of the new church.