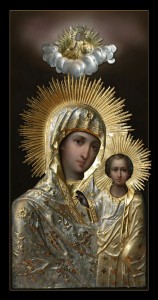 I am a firm believer in the power of prayer.  I have seen lives transformed by prayer and people praying for them.  As an Orthodox Christian we also believe in the power of prayer of the Saints, those who have gone before us who have been recognized by the church as very holy and special people.
July 4th ended the Fortnight for Freedom that the bishops of the Roman Catholic Church in the United States had called for.  The results of that are yet to be seen, but based on the number of people who turn up publicly to pray, it is working because people are praying!  Again, the power of prayer is amazing.
Tomorrow, July 8th, on the Orthodox Calendar, is a different sort of feast day.  Tomorrow we will commemorate an Icon, a very special Icon, The Icon of the Mother of God of Sitka Alaska.  As all Orthodox in America know, Orthodoxy came to the shores of our great country primarily through Russian Alaska.  St. Herman and others from the Vaalam Moastery came to Alaska to serve the workers of the Russian American Company, but also to spread the Gospel to the native population.  They did just that and American Orthodoxy was born.
The Icon of the Mother of God of Sitka was given to the Cathedral of St. Michael in Sitka in 1850 by the workers of the Russian American Company to honor all the work that the Orthodox Church had done to support them.  The Icon has been known to have miracles associated with it that have been reported down through the ages.
There is an Akathist that has been composed by the Diocese of Alaska to be used not only on the feast day of the Icon of the Mother of God of Sitka, but for any day.  With all the the Church is going through with religious freedom in America under threat, all that the church is going through by forces inside and outside the church, maybe it would be a good idea to take a few moments and pray this Akathist for the protection of our Holy Church.  The Icon of the Mother of God of Sitka has been protecting the people of the Diocese of Alaska since 1850 and now is the time that we ask her to help out the "lower 48" as well.
The Orthodox Church of America has a little piece written about the Icon and I link to it here as well as the Akathist that can be found by following this link.
Wont you join me tonight and tomorrow in praying this Akathist in honor of this Icon of the Mother of God of Sitka?  Let us pray this will all due reverence and ask Our Lady, the Theotokos and Ever Virgin Mary to come and protect our Holy Church and to give us comfort and strength for the days a head.