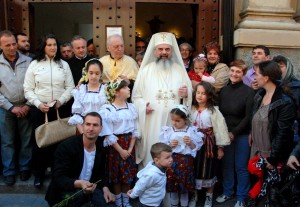 Message of His Beatitude Daniel, Patriarch of the Romanian Orthodox Church on the Immigrant Romanians Sunday, 19 August 2012:
This Sunday dedicated to the immigrant Romanians represents a new opportunity to address words of spiritual strengthening to all the Romanian Orthodox faithful living far from their country.
The Mother Church takes good care of her spiritual sons from outside the country's frontiers and prays at every religious service for the righteous Romanian people from everywhere, wishing that every Romanian faithful, wherever he may be, have joy and spiritual fulfilment, keep the Orthodox faith and show love for Church and nation.
It is a great blessing to have more and more Romanian parishes set up abroad and organise many pastoral-missionary and cultural-educational activities. Moreover, there are projects with social-philanthropic and cultural-educational character, so that the Romanians in distress who live abroad may find support within the Church. It is a well-known fact that the Holy Synod of our Church declared the year 2012 as Homage year of the Holy Unction and looking after the sick, an initiative, which encourages the aiding of the people in distress.
In this sense, we urge all the Orthodox Romanians from Diaspora to cultivate inter-aid and mutual respect, to promote the unity of the family and fraternal co-operation with all people no matter their ethnic affiliation and social state, to help the poor, old and sick people they met in Romania, to help the parishes which build churches and to contribute to the construction of the Cathedral for the Nation's Salvation. We also add the words of Saint Paul the Apostle who tells us: "Warn those who are idle and disruptive, encourage the disheartened, help the weak, be patient with everyone. Make sure that nobody pays back wrong for wrong, but always strive to do what is good for each other and for everyone else. Rejoice always, pray continually, give thanks in all circumstances; for this is God's will for you in Christ Jesus." (1 Thessalonians 5:14-18).
Besides conveying these fatherly and brotherly urges, we pray merciful God to give you peace and good health, joy and salvation, to protect you against every evil thing and strengthen you in every good thing, for the joy of our Church and of the Romanian people from everywhere!
With deep esteem, blessing and love in Christ, our Lord,
† Daniel
Patriarch of the Romanian Orthodox Church