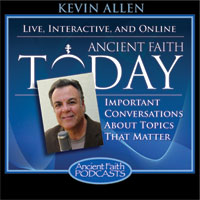 As someone who  is involved in Pastoral Ministry I face many questions about issues such as why doesn't the Orthodox Church ordain women?  What about women in other roles in the Church?  On the latest edition of Ancient Faith Today host Kevin Allen talks with Frederica Matthews-Green about her sojourn from feminisim in the 1960's and 70's to the position she holds now.
Once again Ancient Faith Today does not disappoint.  Kevin Allen is not afraid to take on the hard topics that face all of us in the Church, and outside the Church, today.  Follow this link to the most recent episode but do yourself a favor and listen to the past programs.
Thanks to Ancient Faith Radio for all they are doing to spread the faith to a world wide audience.