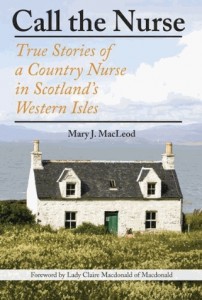 I will have to admit that this is not usually the type of book that I would read but, having said that, I am glad I did.  The story take place on one of the Out Hebrides Islands off the Atlantic coast of Scotland in the 1970's and follows the trials and tribulations of a district nurse and her patients.  The nurse is not a "native" to the island so she has a bit of getting used to the way things work on the island.
The story is an amazing look back at history, and a place that is frozen in time.  The residents of this island eek out a living the way it had been done for generations before them by farming and fishing.  Most of what they need is available on the island but on occasion, and these are some of the funniest stories in the book, they have to go "off island" to get what they need.
My guess would be that the experiences she had "tending to her patients" would be similar to what rural nurses and doctors would have experienced in the United States a generation ago.  Sometimes we forget that not everyone has the same access to medical care as those of us who are fortunate to live near a large city.  There are many stories of folks needing to go to hospital either by ambulance or by air, and the difficulties that are associated with that.  Life is not simple for any of the folks on the islands.
The story follows the life of a district nurse and her family, who moves to the island from Southern England and take up residence in a Croft.  The author does a fabulous job of telling her story, and there was times, that I could smell the peat fire burning in the distance or feel the cold wind as it was blowing over the island.  She has the ability to make you laugh out loud at times and to also weep at the loss of one of her patients.
Mary J MacLeod paints a picture of island life that is anything but romantic on one had but beautiful on another.  She tells the story of the simple island folk who are always there, any time of the day or night, for each other and willing to do, whatever has to be done, to get things accomplished.  This ranges from helping a bull cow that is stuck in the rocks on the beach to plowing the mountain roads in the dead of winter.  Everyone gladly helps everyone without any expectation for pay back.  I guess this is what was called the simpler times.
If you are at all interested in Scotland, the Islands, nursing, or the simple life, or if you just enjoy a good story, this is the book for you.  Do yourself a favor and read this book, you will not regret it.