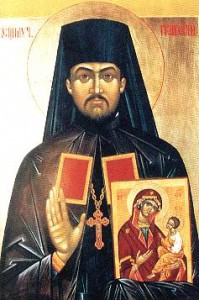 On any given day on the Church calendar there are a list of saints and feast days.  Some are well known and some are not as well known.  Grigol Peradze is just one of those saints.
Grigol Peradze was martyred in the Nazi concentration camp of Auschwitz on December 6th 1942.  He had committed no crime, but like his savior Jesus Christ, he took the sin of another upon himself and was martyred for it.
Grigol Peradze was born on August 31, 1899 in the village of Bakurtsikhe, in the Sighnaghi district of Kakheti, in Eastern Georgia. His father, Romanoz Peradze, was a priest.  He graduated seminary in 1921 and began to teach in the seminary but in November of 1921 he was sent to Germany to study Theology.
He eventually traveled to England where he studied in London and eventually entered monastic life and was ordained a priest.  He was given pastoral care of St. Nino Georgian Orthodox church in Paris.
At the invitation of Orthodox Metropolitan Dionysius Waledinsky of All Poland in 1932, Grigol taught until 1934 at the Faculty of Orthodox Theology of Warsaw University in Poland as a Professor of Patrology. In 1934, he also received the rank of archimandrite.  I wonder if he knew of or even met the future Pope John Paul II while he was teaching in Poland.
Germany invaded Poland in 1939 and things started to get more difficult for him.  On May 4, 1942, he was arrested by the German Gestapo for sheltering and aiding Jews and other victims of fascist persecutions. The priceless collection of Georgian manuscripts he had collected (in hopes of returning them to Georgia) disappeared a search of his quarters. Initially, incarcerated in Pawiak prison in Warsaw, he was deported to Auschwitz in November 1942.
At Auschwitz, a German officer was killed by one of the inmates. To get a confession, the guards drove everyone out of the barracks completely naked into the below freezing weather. To save the innocent prisoners from freezing to death, Archim Grigol chose to take the blame for the murder. Upon his admission the guards let loose dogs on the martyr, then poured gasoline over him, and lit him on fire.
Grigol Peradze was glorified by the Georgian Orthodox and Apostolic Church in 1995.
Like so many others he is almost forgotten because he shares his feast day with that of the more famous St. Nicholas.
Holy Hieromartyr Grigol Pray for Us!