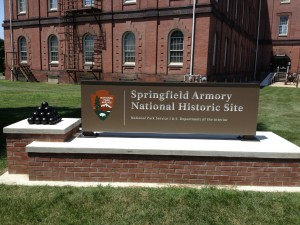 From the Brochure:
From its position at the crest of a hill overlooking the Connecticut River, Springfield Armory exerted a profound influence over the City of Springfield and the nation. It carried out the manufacturing, storage, repair, testing and development functions assigned by the United States Army. In doing so it stimulated technological innovation, encouraged improved manufacturing processes, and fostered increased use of laborsaving machines. All of this had an impact on American industry.
So the Local Summer Challenge continues with a visit to the Springfield Armory in Springfield Massachusetts.
Located in the heart of the City of Springfield this National Park Service Historic Site is a gem that needs to be discovered by more people.  This place has more to offer than just looking at the various weapons that the armory produced during its years of operation, the technology used to produce those weapons is just as amazing.  The site sites on 55 acres and some of the historic buildings remain although most are not available for tour however the landscape as well as the wrought iron fence and original guard house still remain.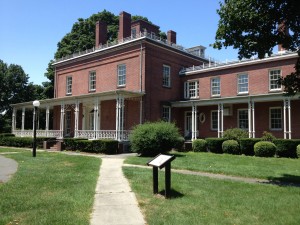 As the Armory was a Federal Army installation it was commanded by an Army officer.  One of the most striking buildings on the grounds in Quarters #1 the house of the Commanding Officer built in 1847.  This building served as the home of the commanding officer and his family until the Army closed in 1967.  Also located on the grounds is a duplex that was built to house junior officers that served at the Armory.  Not sure of the condition of the inside of these buildings but the outside could use a bit of paint and maintenance.
I started with a short video presentation, about 18 minutes that describes the history of the Armory and how it got started.  But for me, the most fascinating part, was the discussion of the technology and mechanism that was developed right here in Springfield.  Moving from handmade weapons to a system of machines powered by water is well worth the trip.
After the video one can take a self-guided tour of the Armory and see the machines that were used as well as displays of various weapons that were developed right there in Springfield.
Not much of the original Armory physical plant is available for touring, most of the property is now used by Springfield Technical College, but the square is available for walking and there are several spots with signs that describe the area available.
The staff is very knowledgeable and helpful with questions you might have, and I did hear that there are Ranger guided tours of the Armory although I did not take one.
If you find yourself in Western Massachusetts do take the time to stop by the Springfield Armory National Historic Site and take the tour.  You will not be disappointed.