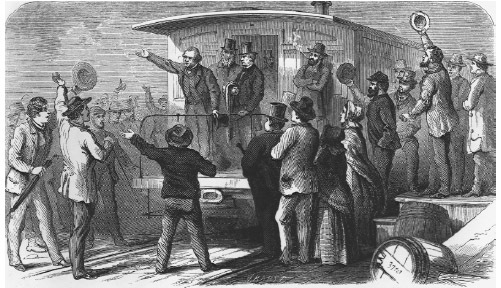 A new blog has been launched that will chronicle the effects of the period after the Civil War known as Reconstruction.  The authors purpose for writing this blog is set forth in the first post.
The purpose of this blog is to stimulate public awareness of America's post-Civil War era, known as Reconstruction. By offering reflections on events that happened 150 years ago, I intend it to follow the "sesquicentennial," or 150th anniversary, of Reconstruction as it unfolds.
This is an often overlooked period of US History and I am glad that someone is taking it on. I look forward to following this blog.
Here is a sample of the first post.
The idea to create this blog came from two sources. In 2010, the New York Times started a "Disunion" blog to commemorate the sesquicentennial of the Civil War. Almost daily from November 2010 to April 2015, "Disunion" tracked the timeline of secession and war. The contributions of journalists, professional historians, and independent scholars brought to a wide readership the voices of the past and their own historical analysis. When "Disunion" wound down in April 2015, several followers of the blog suggested that the Times should continue the project into Reconstruction through a "Reunion" blog. The Times has not pursued this idea, though it did follow up with a few posts on the war's aftermath and a debate on how Reconstruction should be remembered.

A second source of inspiration includes scholars of Reconstruction (see one of several) and leaders in the National Park Service who continue to call for greater engagement with the public over the sesquicentennial of Reconstruction. Though Americans may not be attracted to the complex and frequently discomforting stories of these years, Reconstruction raises questions that resonate with our own time, including questions about citizenship, the rule of law, and national character.