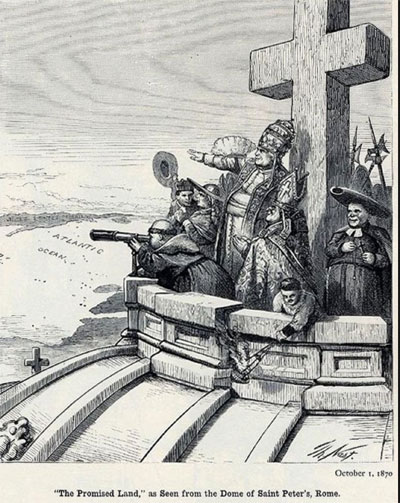 Any discussion of the United States being founded as a Christian nation needs to include the definition of what a Christian actually was.  How we, Christians in America that is, define who is a member of the club today is much different than it was during the time of the founding of the Nation.  For the most part, Protestants were in charge and feared the Roman Catholic Church to a point where anti-Catholic sentiment was pretty wide spread.
Historian John Fea has pointed out an article by Thomas Rzeznik in Catholic Philly about this anti-Catholic sentiment in Philadelphia.
For much of the 19th century, anti-Catholic hostility was fueled in part by a belief that the Vatican was plotting to take over the country and subvert our democratic institutions.

Contributing to the 1844 Nativist Riots here in Philadelphia, for instance, were rumors that Catholics, under order from the pope, were working to have the Bible removed from public schools. The "Bible defenders" saw the need to rally to protect the country from foreign "Popish banditti," as one broadside asserted.

But perhaps no one depicted these alarmist views better than Thomas Nast, the political cartoonist famous for his critiques of New York City's Tammany Hall political machine. In an 1870 cartoon titled "The Promised Land," he depicted the pope standing atop the dome of St. Peter's Basilica, which he made to look like a ship's crow's nest. From that vantage point, the pope and an entourage of clerical minions look across the Atlantic to American shores with an eye for conquest.