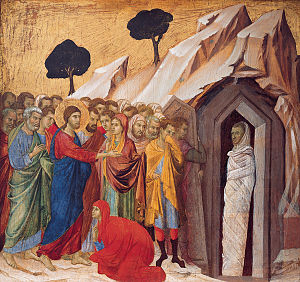 Jesus said, "Take away the stone." Martha, the sister of him who was dead, said to Him, "Lord, by this time there is a stench, for he has been dead four days." (John 11:39 NKJV)
In the family of Lazarus, his sisters were very different.  Martha was outspoken, and Mary was the one working behind the scenes to make sure everything was ready. Lazarus was dead, and the sisters heard that Jesus was on the way to see them.  Martha runs from the house to confront Jesus and to tell him that if he had been there, her brother would not have died.  Mary, on the other hand, remains at home, with those who were there to mourn Lazarus and serve.
This story was a turning point in the ministry of Jesus. Very often, when Jesus performed a miracle, he told folks not to say anything about it, very rarely did they listen to him. But this miracle, giving life back to lifelessness, was done in broad daylight under the very nose of the authorities and this frightened them, and they began to plot not only against Jesus but Lazarus.
But my focus is not on the miracle itself but the reaction of Mary and Martha in relation to life in the church today.
Every church has Mary's and Martha's. Every church has those who work quietly behind the scenes, and every church has those who are out front advocating. And, as in this story, every church has those who like to assign blame when things go wrong. And every church has people who are afraid to roll the stone away because there will be a stench.
When Jesus arrives at the tomb where Lazarus has been placed, he commands that the stone is removed.  Martha objects because, as the New King James Version puts it, "there will be a stench."  Martha is more concerned about the stench that will come from the tomb, and that blocks her from seeing the miracle that is about to take place.
Many times, in church work, we do the same thing.
I have written before about my feeling on how the church needs to adapt to every age. If the church is to remain relevant in the lives of the people she aims to serve then she needs to be concerned about issues that concern them, in other words, we as church leaders need to listen and engage, the culture around the church. We need to adapt to survive, and yes, adapt means change.
The internal workings of any church can be messy and complicated. It is "pie in the sky" to think we always do what God wants us to do in church work and, more often than not, we do our will and not God's will. No one likes to see the sausage made but we all love the result. Budgets, energy bills, endowments, building maintenance, numbers attending worship, etc. are all part of the business of the church, and at times, it is not pleasant.
More often than not, church folks are more like Martha and do not want to roll the stone away because of the stench that will come out when that happens.  As a church leader, it can be difficult to admit that a program that we worked so hard on is not working and needs to end or be replaced. But rolling the stone away, and dealing with the stench is what brings new life from death.
The message of the story of Lazarus is that sometimes we have to roll the stone away and deal with the stench to bring new life. It is not easy nor is it comfortable to confront the stench, but if new life is to come, we have to deal with it head-on.  If Jesus had agreed with Martha, and not rolled the stone away because of the stench, Lazarus would not have been raised, and life would not have been restored.
Let us follow the command of Jesus and "take away the stone" not only in the church but in our lives.