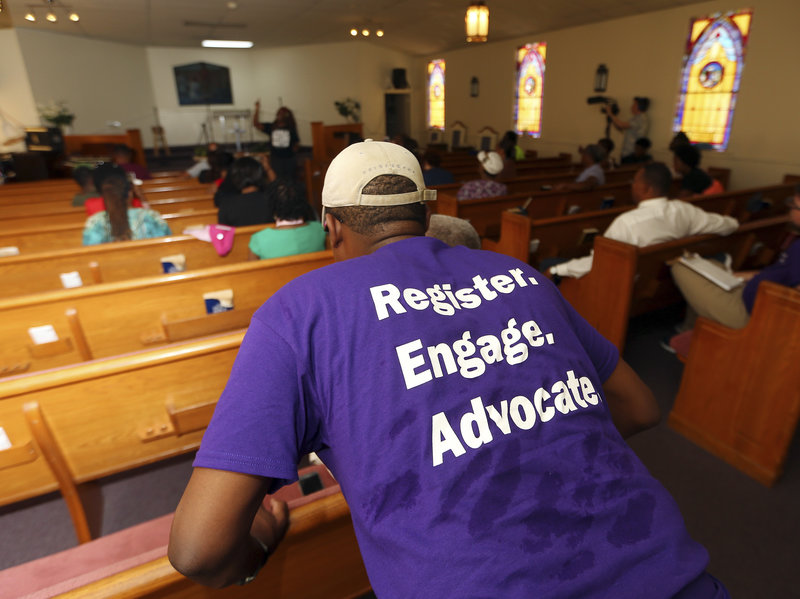 National Public Radio has produced a story regarding faith groups and their efforts to get out the vote for the coming mid-term elections.
It has been widely reported that 80% of white evangelicals helped elect President Donald Trump. Evangelical leaders mobilized their congregations and got people registered and to the polls on election day. As the country prepares for the Mid-Term elections in less than a month, religious leaders on the left are mobilizing their congregations to register and, hopefully, will get them to the polls in November.
For better or worse, the Republican party has always courted the religious vote and it seems that they are now in full control of agenda. Evangelical leaders left it all on the field and organized like I have never seen them organize before to get Donald Trump elected and all of their work has paid off.  Since his election, President Trump has changed the make up of the United States Supreme Court for what could be a generation putting the religious left on a collision course with those on the right.
Megan Black, a national organizer for the progressive group Faith in Action, says avoiding politics is a luxury they can no longer afford.

"I think that the desire to remove oneself from the political arena especially today, when there is so much at stake for so many people, is a privilege that is exercised inappropriately," she said.

Black's group is seeking to reach one million people in person, especially in areas where turnout is traditionally low, and persuade them to vote. For Faith in Action, the main moral issues are voter suppression, immigration crackdowns and police shootings.

Back at the seminary, Dillon Green, a first year student from Alabama, believes in mixing his religion with his politics.

"That's one of the reasons I'm passionate about voting," he said. "I want … to say, you know, I believe in Jesus Christ AND I believe in liberal progressive values."

Green hopes the religious left's renewed political zeal will yield fruit. But he also recognizes that conservative evangelical efforts to turn out the vote have been more productive in the past.

For both groups, the moral character of the country now hangs in the balance.
The Democratic Party should not fear religious people and they should embrace us.  We are, after all, working for the same outcome.
Read the rest here