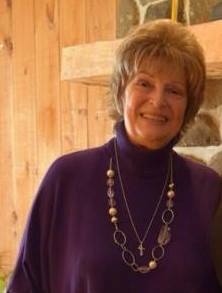 I was ordained to the priesthood 10 years and in that time many people have moved in and out of my life.  Some stayed around for a while and others came in and moved out.  Yvonne was one of the ones who came in and stayed.
For the last few years, here at St. Michael, we have been running a meal for people in the community.  All sorts of people come to the meal and we have really established a great community spirit.  Yvonne used to come to the meal and she would sit opposite the kitchen, she always had a kind word to say and her simile would light up a room even under the darkest of times.
Yvonne had cancer and when I first met her she was undergoing treatment but that did not dampen her spirit.  She still came to the community meal, still sitting in her seat outside the kitchen and she still had that wonderful smile.  She had an amazing strength that could have only come from her faith.  "God is on my side," she would tell me.  And although she was the one who needed the prayer she would always say that she was praying for me.
I drew tremendous strength from Yvonne.
Most priests will say that they have gone through a desert experience in their ministry and sometimes it seems like we will never make it through and out the other side.  Yvonne gave me that strength, that little shot in the arm, it get through the dark periods of ministry and she gave me the strength to get through it.
I am not a person who has many friends.  It takes me a long time to warm up to someone do for me to call someone friend take a long time.  Yvonne was my friend and she died last night.  She lost her battle with cancer but her strength will go on.  Community meal will not be the same with that empty chair across from the kitchen but when I look out I will see that beautiful face smiling back at me and will know that my friend is still with me.
Rest easy my friend your struggle is over.